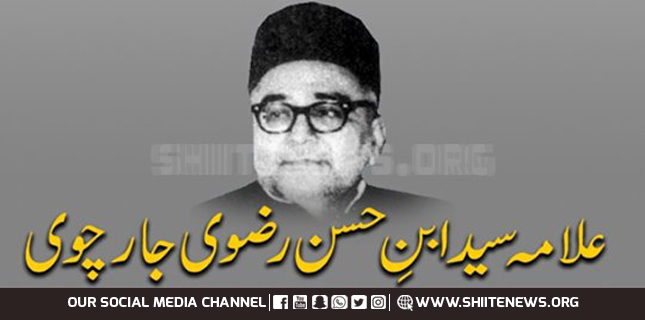 The 46th death anniversary of renowned scholar Allama Syed Ibne Hassan Rizvi Jarchavi was observed yesterday.
Allama Syed Ibne Hasan was born in Jarcha, Baland Shehr in UP, on March 21, 1904. His father died when he was 5-year-old.
Then, his maternal grandfather brought him up. Later, Mr. Jarchavi got education from Oriental College Rampur, Meerut, Lahore and Aligarh Muslim University.
Most importantly, Mr. Jinnah dispatched Allama Jarchavi  to brief the Crips Commission on religious aspects of the Pakistan Movement.
After that, he began teaching and served as teacher of Jamia Millia College Delhi. Then, he moved to princely state Mehmoodabad where he joined Raja Sahib of Mehmoodabad.
Prior to migration to Pakistan, Allama Ibne Hasan had been serving as Principal, Shia Degree College Lucknow since 1948 to 1951.
Furthermore, he had served as a close-aide of founder of Pakistan Mohammad Ali Jinnah and Muslim League working committee member.
Most importantly, Mr. Jinnah dispatched him and another person to Crips Commission to brief the commission on religious aspects of the Pakistan Movement.
Factually, he led funeral prayers of founder of Pakistan and father of the nation Mohammad Ali Jinnah in Karachi.
In Pakistan, Allama Jarchavi became founder pedagogue of Shia Theology department at University of Karachi. Also, people respect and know him as an orator and writer.
Moreover, he got land to establish Islamic Research Centre (Karachi) but before its completion he embraced demise on July 16, 1973.
Furthermore, Allama Jarchavi authored many books on Islamic teachings, history, etc.
Allama Ibne Hassan Jarchavi