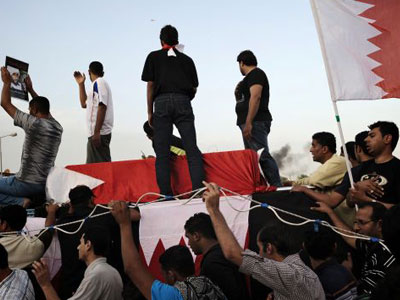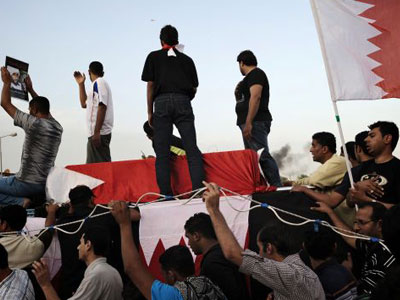 Saudi-backed forces in Bahrain have attacked mourners holding a funeral for a protester killed by regime forces.
Activists said on Monday that the police quickly attacked the mourners after they started calling for the downfall of the regime.
Thousands of Bahrainis took to the streets in the Manama suburb of Bilad al-Qadim for the funeral procession for 36-year-old Salah Abbas Habib, who was found dead on a rooftop in the village of Shakhoura, southwest of Manama, on Saturday shortly after regime forces attacked an anti-government demonstration in the area the day before the Formula One Grand Prix.
Hussein Abbas Habib, the victim's brother, said, "We just got the body back now. He had birdshot wounds in his chest and abdomen." He added that his brother was also badly beaten on his hands, back, and legs.
According to the Bahrain Youth Society for Human Rights, Habib was shot while running away from police.
Activists say authorities kept Habib's body for two days and handed it over to his family on Monday to prevent the funeral from being held during the Bahrain Grand Prix.
Bahrain's main opposition group, al-Wefaq, has confirmed that Saudi-backed forces killed Habib and said that the conflict will grow more violent if the regime does not engage in political reforms.
Al-Wefaq Leader Sheikh Ali Salman said the regime refuses to talk or listen to the demands of the people and the situation has reached an impasse because the Saudi-backed regime is not keen on implementing real reforms.
The Bahraini revolution began in February 2011. Since then dozens have been killed and thousands more injured and arrested.
Anti-regime demonstrators hold King Hamad bin Isa Al Khalifa responsible for the death of protesters during the popular uprising.