Middle East
Sheikh Ali Salman Warns Explosion of Anger Bahraini if Al-Khalifa Regime Continue Violent Crackdown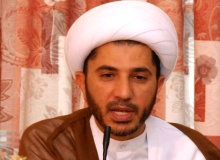 The main Bahraini opposition group says the government is pursuing a campaign of revenge and purge on anti-regime protesters, warning about the angry people's response.
Al-Wefaq warned on Wednesday that the anger of the majority opposition "could explode" if the regime does not end its violent crackdown on the people, Reuters reported.It said that there is no guarantee for the people's uprising to stay peaceful forever because people see their brothers and sisters getting detained and fired at.
It also blamed the Bahraini regime for what it described as a campaign aimed at removing the opposition members from state jobs.
The opposition's reaction comes as Manama, backed by Saudi-led militaries from neighboring Arab countries, continues its brutal crackdown on anti-government protesters.
"How long can we continue like this? We say every day, be peaceful, be peaceful, be peaceful…but how long will young people listen to this?" Al-Wefaq's Secretary General Sheikh Ali Salman questioned."But nobody can give a guarantee that the movement will continue like this and that the anger of the young people will not explode in a different way," he said at the party headquarters in Manama.Reports say security forces attacked houses in the eastern island of Sitra, firing rubber bullets at the occupants, including children.Analysts blame the international community for falling short of taking adequate measures against the ruling Al Khalifa royal family.
More than two months into the popular uprising in the tiny Persian Gulf country, the Foreign Affairs Council of the European Union has urged Bahrain to enter into talks with the opposition but failed to condemn the foreign military interference in the country.