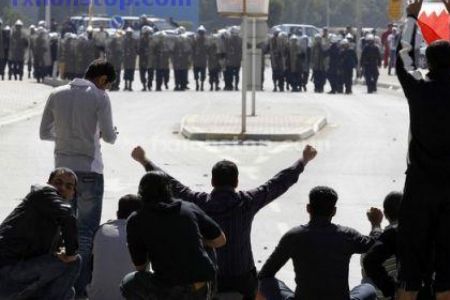 A Bahraini opposition leader says Saudi Arabia is cooperating with Israel and the West to suppress the pro-democracy momentum in the Arab world."People have given a lot of sacrifices in Yemen, in Libya, in Egypt, in Tunisia, in Bahrain," Saeed al-Shahabi from the London-based opposition group of Bahrain Freedom Movement told Press TV on Monday.
"But so far it is very clear that the unholy alliance between Saudi Arabia, Israel, the United States and the Great Britain…is hampering the move towards democratization and as such many more casualties are likely to fall in these courses."
Encouraged by the popular revolutions in Tunisia and Egypt and the ongoing popular anti-regime movements in the Arab world, Bahrainis have been protesting against the country's ruling monarchy since February 14.
Scores of protesters have been killed and many others gone missing in the government-sanctioned crackdown.
Bahraini forces have stepped up their brutal armed attacks on the protesters with the help of Saudi, UAE and Kuwaiti troops. The use of violence against the demonstrators has intensified ever since the deployment of the foreign forces.
Shahabi confirmed reports that Manama has been in contact with Tel Aviv.
Back to top button