Middle East
Kurdish Fighters Claim Capturing Several Turkish Soldiers in Northern Syria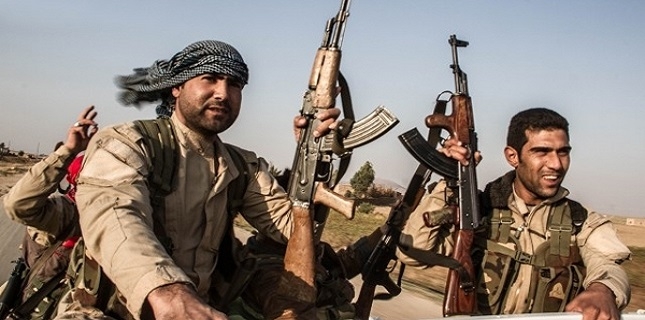 The Kurdish fighters claimed on Friday that they have captured 16 Turkish Army soldiers in Afrin region in Northwestern Syria.
The Kurdish fighters said that they have captured 16 Turkish soldiers in clashes in Afrin, where Ankara and allied Free Syrian Army militants have been conducting an operation codenamed Olive Branch since January 20.
"The militiamen lost four people," the spokesman for the Kurdish Self-Defense Forces YPG added.
He also noted the reduction in the number of Turkish airstrikes in the area.
On Wednesday, Turkish and Kurdish representatives shared conflicting reports on casualties on the fifth day of the Afrin operation.
While the Turkish military said that a total of 287 militant had been killed in the campaign, a YPG militia representative speaking to Sputnik challenged the Turkish military's claims, saying that no more than 15-20 Kurdish militiamen had been killed.
The same day, Reuters cited a senior member of the Kurdish-led Syrian Democratic Forces as saying that the group had killed tens of Turkish forces and allied FSA rebels since the start of the Olive Branch Operation, however, failing to provide an exact figure.
After the Turkish General Staff announced on Saturday the launch of the operation in Afrin against the PKK and the YPG, the SDF expressed readiness to defend.
The campaign, which started with airstrikes to support the Free Syrian Army rebels, has been followed by a ground operation by the Turkish military on Sunday.
Ankara has been mulling an operation in Afrin since the US announced plans to build a 30,000-strong Kurdish-led Syrian Democratic Forces (SDF) security force on Syria's border with Turkey, which President Recep Tayyip Erdogan called a "terrorist army."
Turkish sources disclosed on Wednesday that the Turkish Army temporarily halted the Olive Branch Operation to fortify newly-captured positions and later kick off fresh attacks on Kurds to go directly towards the Central part of Afrin region,
The Turkish-language Yeni Safak daily quoted the sources as saying that military operations along the borderline with Hatay, Hasa, Kakhan Sakisli and Kilis has been halted to resume a fresh ground operation towards the town of Afrin after recent advances of the Ankara forces and allied militants against Kurds within the framework of the Olive Branch Operation in Northwestern Aleppo.
The daily further said that the Turkish troops have captured seven regions in clashes with the Kurds in Afrin, adding that the army forces are about to fortify their position in the seven newly-captured regions and later push towards the town of Afrin.
It added that the new strategy will prevent the Kurds from prevailing over the positions of the Ankara forces.