Middle East
Russia, Syria halt airstrikes on Aleppo ahead of schedule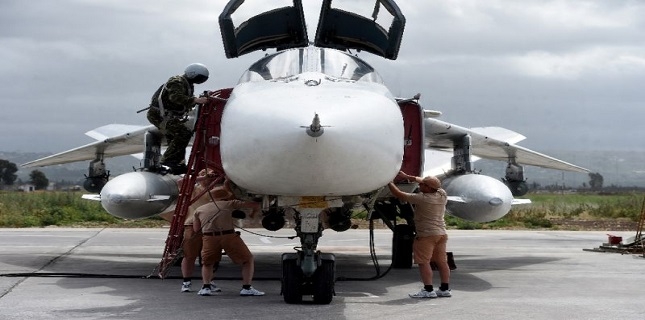 Russian Defense Minister Sergei Shoigu has announced that Russian and Syrian airstrikes against the militant-held city of Aleppo have been halted.
Shoigu said on Tuesday that Russian and Syrian air forces had stopped the airstrikes on Aleppo from 0700 GMT on the same day.
The halt in the airstrikes came ahead of a "humanitarian pause" scheduled by Russia for October 20. When initially announced on Monday, the pause was scheduled to take effect on Thursday, from 0800 (0500 GMT) until 1600, to allow civilians and militants not affiliated to terrorist groups to leave the city.
The Tuesday announcement by Shoigu may now mean that there will be no airstrikes on Aleppo for over 48 hours instead of the original eight.
Shoigu also said that military experts will meet in Geneva on Wednesday to begin work on separating terrorist elements from other militant groups in Syria.
Russia had earlier announced its readiness to halt operations at any moment in Aleppo on the request of humanitarian organizations.
"We are prepared to cease fire and ensure the unhampered access of medical personnel to the city and ensure the evacuation of the injured and sick as soon as we get a request from humanitarian organizations," said the chief of the main operations directorate of Russia's General Staff, Sergey Rudskoy, on Monday.
While noting that Russia is prepared "to discuss any initiatives and proposals for a settlement in Aleppo," Rudskoy added that the upcoming "humanitarian pause" is aimed at granting civilians and militants the opportunity to evacuate and withdraw from the city and for the wounded to seek medical attention.
"We understand that the coordination of all issues can a take long time. Therefore, we decided not to delay a decision and initiate a 'humanitarian pause,' primarily for the free passage of civilians, the evacuation of the sick and wounded, as well as the withdrawal of fighters," he explained.
Aleppo, Syria's second largest city, has been divided between government forces and foreign-backed militants since 2012. The Syrian army launched operations to reunite the government-held western part and the militant-held eastern section of Aleppo on September 22, with the support of the Russian air force.
Upon a request from the government of President Bashar al-Assad, Russia has been conducting airstrikes against Daesh and other terrorist groups in Syria since September 30. Since then, it has killed hundreds of Daesh terrorists and other foreign-backed militants.
'For sure a positive step'
The EU hailed Russia's announcement but said it would be continuing with its sanctions on the Syrian government.
EU foreign affairs chief Federica Mogherini said Moscow's announcement was "positive" but not long enough for sufficient humanitarian aid to reach the divided city.
"It can be a start… for sure it is a positive step," she said after a ministerial meeting in Luxembourg. "The latest assessment from the aid agencies (however) is that 12 hours is needed so work is needed to find common ground."
UN spokesman Stephane Dujarric also lauded the ceasefire, but stressed the "need for a longer pause in order to get the aid in."
The conflict in Syria, which flared up in March 2011, has claimed the lives of more than 400,000 people, according to an estimate by UN Special Envoy for Syria Staffan de Mistura.