Middle East
Over 700 Terrorists Surrender Laying Down Arms in Sweida, Homs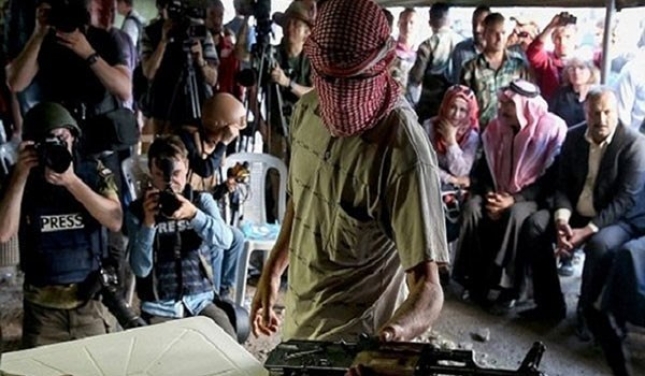 Hundreds of militants stationed in Swieda and Homs surrendered themselves and their weapons to the Syrian authorities to return to normal life.
Nearly 600 militants were pardoned in Sweida during a national event attended by official, popular and religious figures at the Sweida Branch building of al-Baath Arab Socialist Party.
During the event, Governor of Sweida Amer Ibrahim al-Eshi said that "the invitation is open to embrace all the young people who have lost their way to lay down arms and be pardoned".
For their part, those who were pardoned expressed their commitment to homeland, pledging to return to their normal life.
They also called on all those who have lost their way among the rebels to lay down arms and take advantage of those initiatives and the amnesty decrees.
Meanwhile, a sum of 130 militants from Homs Province were also pardoned after they turned themselves in to authorities on Wednesday in accordance with the amnesty decree No.15 for 2016.
The militants come from different parts of Homs province, including the city of Homs, al-Rastan, Tal Biseh and Palmyra.
Last month, the armed opposition groups in Syria declared that thousands of militants in the Southern parts of the country are willing to reconcile with the Damascus government.
A provincial council affiliated to the militant groups in a statement admitted that 25,000 militants are looking for reconciliation with the Syrian government forces in Southern Syria.
The statement by the 'Council for Men of Knowledge in the Levant' has accused the terrorist commanders willing to compromise with the Syrian army of treason.
It has given the militant commanders in Southern Syria three days to withdraw from al-Mouk Operations Room (which operates under the Saudi, Qatari, the US and Jordanian spy agencies).
The Al-Mouk Operations Room has been accused of corruption, similar reports in a number of other Arab media have cited the financial corruption of the Operations Room members as a main cause of the militants complaint and their decision to surrender to the Syrian army.