Middle East
Witnesses say Daesh smuggled Syrian oil to Turkey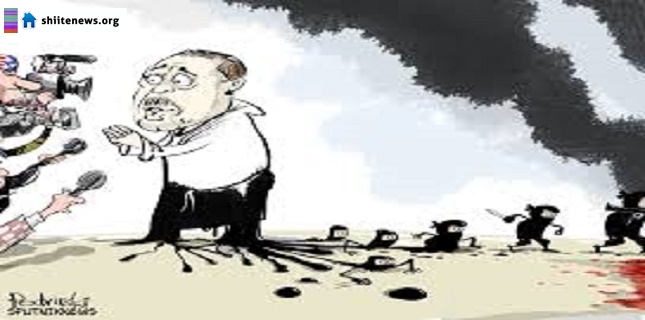 People living near a recently-liberated oil field in northern Syria say Daesh terrorists smuggled oil from the facility to Turkey through their stronghold in the Syrian city of Raqqah.
The Jabisah oil field, which lies near the town of Shaddadi in Syria's Hasakah Province, was liberated by the so-called Syrian Democratic Forces (SDF) coalition in February, two years after it fell to Daesh.
Witnesses told RT Arabic that the Daesh Takfiris smuggled oil from the facility before being driven out of it, which is one of the largest in Syria.
A resident of Hasakah, Ghazi Hussein, said Daesh terrorists were transporting oil to their stronghold in Raqqah, then to Turkey via the Tal Abyad checkpoint on the border between Syria and Turkey.
"Then they sold it (the oil) to Turkey in exchange for dollars and weapons," he said.
He said the terrorists also smuggled Syrian historical artifacts.
Another resident said the terrorists used hundreds of oil tankers they had captured after seizing the Iraqi city of Mosul to smuggle the oil. "All the tankers were from Iraq. They were filled with Syrian oil. The oil was taken to Raqqah and then to Turkey," Amir al-Hajj said.
Meanwhile, a member of the SDF, Matin Karzero, said, "When we came, IS (Daesh) were here. They destroyed everything, stole oil and gasoline."
"We, the Syrian Democratic Forces, came here to protect the oil fields for them to be used for the benefit of the Syrian people after reconstruction," Karzero added.
The SDF has been fighting Daesh since mid-October. It was formed out of an alliance between the Kurdish People's Protection Units (YPG) and other forces, including Arab and Assyrian fighters, and has the United States' backing.
Moscow has repeatedly said it has evidence showing Turkey is involved in the smuggling of oil from areas held by Daesh in Iraq and Syria.
RT Documentary reported in March that it had found "precious documents" that revealed the scope of illicit oil trade by Daesh and its apparent connection with Turkey.
The documents, purported to be financial records, reveal the illicit oil trade involving Turkey, the television said.
Over 170 financial records, dated between January 11 and 24, 2016, were compiled by what was said to be the sales department of the Daesh's so-called ministry of natural resources.
The papers list the names of the oil wells, the price per barrel, the date of sales, the number of trucks used for delivery, and the total cost of the oil sold.
RT also quoted a Daesh militant, arrested by the Kurds, as saying that the terrorist group was selling oil to Turkey.
Russia and Turkey have had strained relations since Turkish fighter jets shot down a Russian jet over Syria in November 2015, claiming that it had violated Turkish airspace. Russia denied the claim of airspace violation. One of the two pilots of the Russian jet was killed by militants on the ground in Syria.