Middle East
Kurdish Official: Persian Gulf Arab States Funding ISIL Terrorists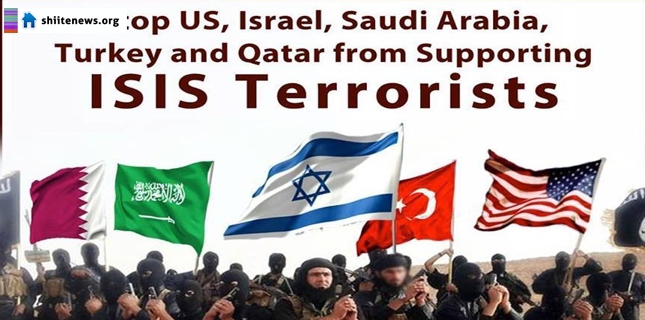 The ISIL terrorist group is still receiving significant financial support from Arab sympathizers outside Iraq and Syria, enabling it to expand its war effort, said a senior Kurdish official.
Fuad Hussein, the chief of staff of the Kurdish President, Massoud Barzani, told The Independent on Sunday, "There is sympathy for Da'esh (ISIL) in many Arab countries and this has translated into money – and that is a disaster."
He pointed out that until recently financial aid was being given more or less openly by Persian Gulf states to the opposition in Syria – but by now most of these rebel groups have been absorbed into ISIL and Jabhat al-Nusra, the al-Qaeda affiliate, so it is they "who now have the money and the weapons".
Hussein would not identify the states from which the funding for ISIL comes today, but implied that they were the same Persian Gulf oil states that financed extremist Arab rebels in Iraq and Syria in the past.
Mahmoud Othman, a veteran member of the Iraqi Kurdish leadership who recently retired from the Iraqi parliament, said there was a misunderstanding as to why Persian Gulf countries paid off ISIL. It is not only that donors are supporters of ISIL terrorists, but that the movement "gets money from the Arab countries because they are afraid of it", he said. "Persian Gulf countries give money to Da'esh so that it promises not to carry out operations on their territory."
Iraqi leaders in Baghdad privately express similar suspicions that ISIL could not be financially self-sufficient, given the calls on its limited resources.
The ISIL Takfiri group is doing everything it can to expand its military capacity, as the Iraqi Prime Minister, Haider al-Abadi, threatens an offensive later this year to recapture Mosul.
According to interviews by The Independent with people living in Mosul reached by phone, or with recent refugees from the city, ISIL officials are conscripting at least one young man from every family in Mosul, which has a population of 1.5 million. It has drafted a list of draconian punishments for those not willing to fight, starting with 80 lashes and ending with execution.
All these new recruits receive pay, as well as their keep, which until recently was $500 (£324) a month but has now been cut to about $350. Officers and commanders receive much more. A local source, who did not want to be named, said that foreign fighters, of whom there are an estimated 20,000 in ISIL, get a much higher salary – starting at $800 a month.
"I know three foreign terrorists," said Ahmad, a 45-year-old shopkeeper still working in Mosul. "I usually see them at checkpoints in our neighborhood: one is Turkish and the others are Europeans. Some of them speak a little Arabic. I know them well because they buy soft drinks from the shops in our neighborhood. The Turkish one is my customer. He said he talked to his family using the satellite internet service that is available for the foreigners, who have excellent privileges in terms of salaries, spoils and even captives."
Ahmad added, "ISIL (terrorists) have arrested four high-school teachers for telling their students not to join ISIL." ISIL terrorists have entered the schools and demanded that students in their final year join them. ISIL has also lowered the conscription age below 18 years of age, leading some families to leave the city. Military bases for the training and arming of children have also been established.