Middle East
Dozens of French terrorists fighting against Syrian govt. forces in Idlib: Report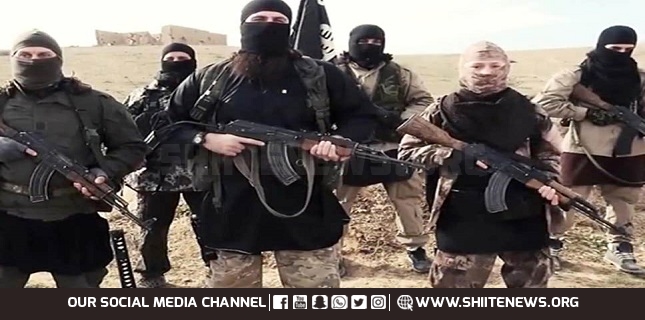 Dozens of French militants are reportedly fighting within the ranks of Takfiri terrorists in Syria's Idlib Province amid a major army operation to liberate the last terrorist-held bastion.
FRANCE 24 reported on Friday that those Idlib-based terrorists are following orders from French militant recruiter Omar Omsen, head of an al-Qaeda-linked terror outfit, called Firqat al-Ghuraba.
"There are a few dozen people who have been in the area since 2013 and who have set up a camp on the Syrian-Turkish border," said FRANCE 24's Wassim Nasr, who spoke with Omsen via Skype.
The French terrorists pledged allegiance to the al-Qaeda militant group upon arrival in Syria, but "reclaimed their independence in 2018," according to Omsen.
Idlib conflict
Over the past few weeks, tensions have escalated between Ankara and Damascus in Idlib, the only large territory in the hands of terrorists after the Syrian military managed to undo militant gains across the Arab country and bring back almost all of Syrian soil under government control.
Syria launched the counter-terrorism offensive in Idlib and neighboring areas last December after its troops and those of Russia came under increasing militant attacks.
The Syrian army gains, however, coincided with a massive deployment of troops and military equipment by Turkey, which is evidently upset by changing conditions on the ground.
Under a deal reached with Russia in the Black Sea resort of Sochi in September 2018, Turkish troops were deployed in Idlib and set up military outposts there.
The agreement required Turkey to oust Takfiri terrorists from the northwestern Syrian province. But, more than a year into the Sochi deal, foreign-backed terrorist rule supreme in Idlib in quite close proximity to the Turkish troops.
On Thursday, Turkey said at least 33 of its soldiers were killed in an aerial attack by Russian-backed Syrian forces in Idlib.
The Russian Defense Ministry said in a statement that the targeted Turkish troops were among terrorists.
"Turkish soldiers who were in the battle formations of terrorist groups (on Thursday) came under the fire of Syrian troops," the statement read.
Turkish forces had not communicated their presence in the area, "where they should not have been," it added. "The Russian air force is not used in this zone."
Following the incident, Turkey requested a NATO emergency meeting, citing security threats.
NATO, US stand by Turkey
Speaking after the meeting in Brussels, NATO Secretary General Jens Stoltenberg said that members of the US-backed military alliance had expressed their "full solidarity" with Turkey in the aftermath of the Idlib attack.
He, however, offered no immediate promise of assistance to Ankara, noting instead that NATO members were "constantly looking into what more they can do to provide further support for Turkey".
Additionally, US Secretary of State Mike Pompeo backed Ankara, saying, Washington was "reviewing options to assist Turkey against this aggression."
Turkey threatens more 'decisive' action
On Friday, Turkish President Recep Tayyip Erdogan told his Russian counterpart, Vladimir Putin, over the phone that "every Syrian government unit" was a legitimate target for Ankara.
Erdogan also stressed that attacks on Syrian soldiers had "made Ankara more decisive" regarding its stance on Idlib.
"Both sides reaffirmed that it was necessary to adopt additional measures in order to normalize the situation in northwestern Syria," the Kremlin said. "They agreed to step up the corresponding interagency consultations and to examine the possibility of soon holding a meeting at the highest level."
In another development on Friday, Turkey, which backs anti-Damascus militants, said it had hit 200 Syrian government targets, "neutralizing" 309 soldiers.
Defense Minister Hulusi Akar said that the Turkish had also destroyed five Syrian government helicopters, 23 tanks, 10 armored vehicles, 23 howitzers, five ammunition trucks, two air defense systems and three ammunition depots.