Middle East
Turkish troops take control Syrian border town of Ras al-Ain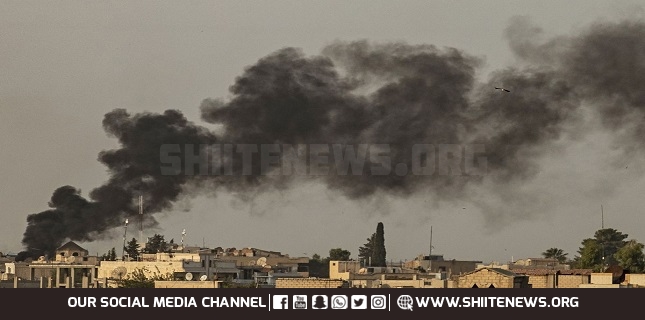 Turkish defense ministry says its forces have taken control of the Syrian border town of Ras al-Ain from US-backed Kurdish militants.
"As a result of successful operations within the scope of Operation Peace Spring, the town of Ras al-Ain to the east of the Euphrates has been brought under control," the ministry wrote on Twitter Saturday.
An official of the Kurdish SDF militants, however, said the Syrian city "is still resisting and clashes are ongoing".
The so-called Syrian Observatory for Human Rights also reported that the town had yet to be completely taken. The London-based monitor said 30 civilians have been killed since the incursion began.
Ras al-Ain and Tal Abyad have been the primary focus of Turkey's incursion launched on Wednesday. They have come under heavy bombardment, prompting tens of thousands of civilians to flee.
According to the observatory, Turkish forces have launched a three- pronged operation against Ras al-Ain under the cover of heavy artillery fire and airstrikes.
The self-proclaimed Kurdish-led authority in northeastern Syria said more than 191,000 people have been displaced as a result of the Turkish invasion.
The offensive, it said, has caused successive waves of displacement from the city of al-Malikiya to Kobani, known also as Ayn al-Arab.
Turkey-backed militants said on Saturday they have cut the 712 road that links Tel Abyad and Ras al-Ain. A militant spokesman claimed 18 villages have been captured in the advance.
The road hugs the border in some places and in others extends a number of kilometers (miles) into Syria.
Syria's official SANA news agency said Turkish warplanes were targeting villages.
SANA's reporter in Hasakah said Turkey had also cut off an international highway linking the province in the far northeastern corner of Syria to Aleppo.
US forces, the reporter said, had transported 80 foreign Daesh prisoners held at al-Shadadi prison south of Hasakah to Iraq.
In a tweet on Saturday, Iranian Foreign Minister Mohammad Javad Zarif posted part of his interview with Turkey's TRT World, offering to engage Ankara, Damascus and Syrian Kurds in talks to establish security along the border.
He referred to the 1998 Adana Interstate Agreement on Combating Terrorism, stressing that Turkey and Syria can jointly secure the border.
Turkey launched its long-threatened incursion into northeast Syria in a declared attempt to eliminate US-backed YPG militants.
The YPG constitutes the backbone of SDF militants who are acting like US proxies in Syria.
The Turkish defense ministry said Saturday 415 YPG militants had been "neutralized" since the operation began.
Turkish President Tayyip Erdogan vowed Friday that Ankara would not halt its military campaign in Syria despite an international calls on the country to do so.
"We will never stop this step we have taken against the PYD/YPG… We will not stop it no matter what anyone says," he said. "We're receiving threats from right and left, saying stop this progress."