Middle East
Syria determined to liberate every inch of it territories: Walid al-Moallem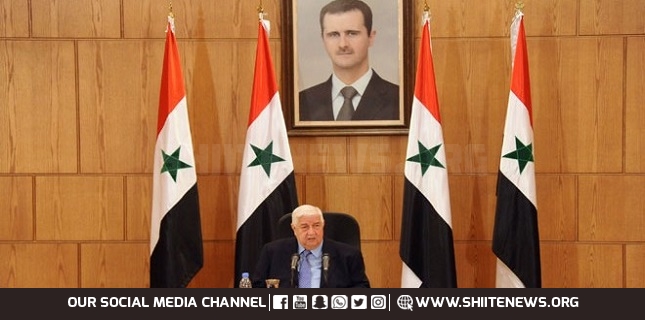 Deputy Prime Minister, Foreign and Expatriates Minister Walid al-Moallem affirmed that Syria is determined to liberate every inch of its territories after it has remained steadfast for more than 8 years through which it has combated thousands of terrorists.
Interviewed by al-Mayadeen TV channel on Wednesday evening, Minister al-Moallem noted that the Syrian state has granted many settlement opportunities for terrorists in Idleb area, the latest of which the current ceasefire.
Al-Moallem added that head of the Turkish regime Recep Tayyip Erdogan hasn't implemented what was agreed upon in Sochi among the guarantor states of Astana process which are Russia, Iran and Turkey, and he hasn't done anything, therefore, terrorists should leave and return to their homelands.
He indicated that the Western states and Turkey have been encouraging the flow of terrorists to Syria as they have provided all the facilitations for them, and now after their defeat, they don't want them to return, and they want to take their children only, and this is a defect which the UN must handle, affirming that those terrorists have three choices, whether to remain detained in Syria or to be killed or to return to their countries, and the best one is to return.
"Turkey should choose either to be a neighboring state or a hostile state to Syria, and in case it chooses to be a neighboring state, there is Adana agreement which guarantees the security of the borders between the two countries, and there are bases for the good neighborliness, and if Turkey adheres to them, it should first withdraw its troops from Syria and stop its support to terrorists," al-Moallem said.
He added "If Erdogan wants the return of the displaced Syrians, he should coordinate with the Syrian state to guarantee their safe return to their hometowns, and not to practice ethnic cleansing in a certain area because this contradicts with the international law."
Al-Moallem asserted that when Syria achieves its priorities in combating terrorism, it will start to work on other priorities such as the withdrawal of all occupational foreign troops from the Syrian territories, adding that there are legitimate means that can force them to pull out.
Commenting on the opening of al-Bokmal-al-Qaem border crossing with Iraq, al-Moallem said that this is considered as a natural development and a good step, expressing hope that it will be invested for further enhancing relations between the brotherly peoples of Syria and Iraq.
Regarding the bases of the Constitutional Committee, al-Moallem reaffirmed that it is based on respecting the independence and sovereignty of the Syrian Arab Republic, and it will be led and owned by Syria and the UN will play the role of facilitator in it not the mediator, and it doesn't impose its opinion.
Al-Moallem added that the constitution is a national issue and any participants should be objective and should reflect the interests of Syria, not the interests of Turkey or other states, expressing Syria's appreciation for the efforts exerted by Russia and Iran within Astana group.
He reaffirmed that the Syrian Government welcomes the safe return of all refugees, saying "We assure everyone who is willing to return to his homeland that we will provide all facilitations for him and all possible support and aid."
Regarding the Syrian Kurds, al-Moallem said "Not all the Kurds are (QSD) militias , but they are Syrian citizens and we deal with them on that basis, but those who cooperate with foreign sides, namely the Americans here, against the interests of their homeland are not good citizens, and we should hold them accountable."
He asserted that all territories which are under control of QSD militias should return to the control of the Syrian state, and they shouldn't build hopes on the American promises.