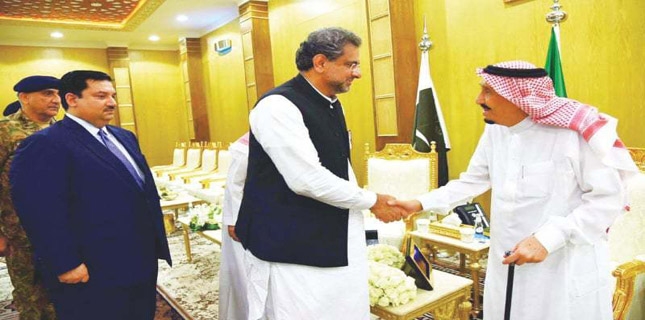 Prime Minister Shahid Khaqan Abbasi, Army Chief General Qamar Javed Bajwa and Defence Minister Khurram Dastgir called on Saudi King Salman during their visit to the kingdom.
During their two-day stay in the Saudi Kingdom, they were also accompanied by ISI Director General Lt Gen Naveed Mukhtar. There was a brief interaction with Crown Prince Muhammad bin Salman as well.
They attended the concluding ceremony in the Kingdom's eastern city of Jubail also attended by leaders of the participating countries.
Twenty-four countries participated in the Gulf Shield-1 military exercise, which continued for nearly a month. Besides hosts Saudi Arabia and Pakistan, the other countries that took part in the exercise were the US, the UK, the UAE, Bahrain, Qatar, Kuwait, Egypt, Jordan, Sudan, Mauritania, Malaysia, Chad, Djibouti, Niger, Comoros, Afghanistan, Oman, Guyana, Turkey, and Burkina Faso.
Troops from the Pakistan Army, Pakistan Air Force, and Pakistan Navy participated in the exercise.