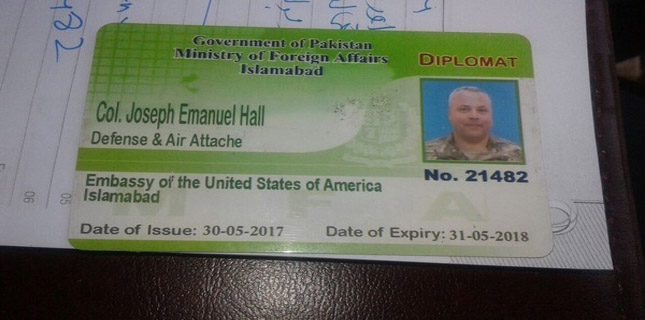 Islamabad police have asked the federal interior ministry to put the name of US Defence and Air Attaché Colonel Joseph Emanuel Hall on the Exit Control List after he killed an innocent Pakistani youth while driving.
In a letter written to the interior ministry, the police stated they have received information from reliable sources that Emanuel would leave the country soon. Since investigation into the accident involving the US defence attaché in Islamabad was under way, the police did not want him to leave Pakistan.
In a statement issued earlier, Islamabad police said they could not arrest Emanuel as the Vienna convention provided him immunity.
A case has been filed against the US defence attaché after a vehicle he was driving violated the traffic red signal and hit a motorbike, killing a young man and injuring another in Islamabad.
According to Article 29 of Vienna Convention on Diplomatic Relations, 1961, the person of a diplomatic agent shall be inviolable. "He shall not be liable to any form of arrest or detention. The receiving state shall treat him with due respect and shall take all appropriate steps to prevent any attack on his person, freedom or dignity."
Nevertheless, police said, investigation was under way into the incident as case under section 279 and 320 were filed at Kohsar police station against the defence attaché.
The authorities added they were in contact with the accident victim, Atiq Baig's, family and would provide them with justice at all costs.
The accident occurred on April 7 near Daman-e-Koh Chowk in the federal capital, killing Baig and injuring his cousin Raheel Ahmed. The police officials said when they reached the site the person in the car introduced himself as Colonel Joseph Emanuel and showed them his official card.
Following the incident, officials said they took Emanuel and his car was to the police station. After initial probe, Emanuel was handed over to the embassy officials who were also present at the police station.