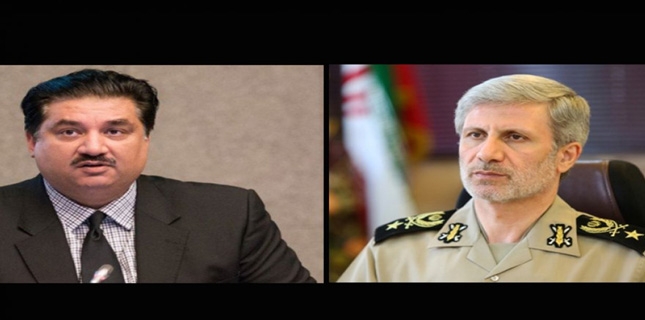 Pakistani and Iranian officials have discussed in detail issues of border management to check the activities of terrorists.
Defence Minister Engineer Khurram Dastgir Khan in a meeting with Iranian Defence Minister General Amir Hatami on the sidelines of the Moscow Security Conference in Russian capital on Saturday also discussed the situation in Afghanistan and expressed concern over presence of Daesh terrorist group in that country. Both the leaders expressed a shared concern about presence of Daesh in Afghanistan.
The two sides also discussed bilateral as well as international issues of common concern including stabilizing the Middle East, violence perpetrated on Muslims in Palestine, Syria, and Occupied Kashmir. United Nations Under-Secretary General for Counterterrorism Vladimir Voronkov and Chairman of the International Committee of the Red Cross Peter Maurer also called on Defence Minister in Moscow. Both the dignitaries commended Pakistan's unprecedented success in eliminating terrorism from its soil.