Iran
'Death to America' means death to  American rulers: Ayatollah Khamenei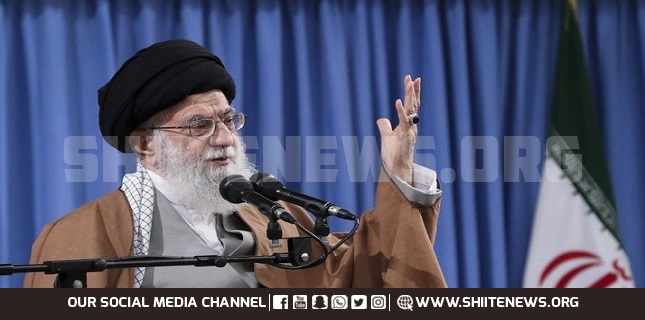 Leader of the Islamic Revolution Ayatollah Seyyed Ali Khamenei has derided US President Donald Trump for claiming that the Iranian people have not been chanting 'Death to America' since he came into office.
During a meeting with staff members of Iran's Judiciary in Tehran on Wednesday, Ayatollah Khamenei called the Trump administration "the most vicious government of the world."
"Now this great, brave and reputable nation is being accused by the most vicious government of the world, i.e. the US."
The crowd welcomed the description by shouting "Death to America."
Reacting to the chants, the Leader referred to Trump's comments in an interview with Fox News on June 14, in which the US president claimed, "They (the Iranians) haven't screamed 'death to America' lately."
Trump had said, "If you look at the (Iranian) rhetoric now compared to the days when they were signing that agreement [the 2015 Iran nuclear deal, which Trump withdrew from], where it was always 'death to America, death to America, we will destroy America, we will kill America,' I'm not hearing that too much anymore," Trump said. "And I don't expect to."
Ayatollah Khamenei apparently poked fun at Trump and said, "That fellow had said the Iranian nation is no longer chanting 'Death to America.'"
The Leader's remarks then drew a new round of 'Death to America' chants from the participants in the meeting.
"Death to America" is a popular slogan among Iranians that has been in use since the 1979 Islamic Revolution, which toppled the US-backed Pahlavi regime in the country and replaced it with an Islamic establishment.
The chant has been provoked by the US government's historical enmity towards the Iranian nation and symbolizes the people's outrage at the White House's highly hostile Iran policy, with no wish for literal death for American people themselves.
In February, Ayatollah Khamenei said the Iranian nation will keep chanting 'Death to America' as long as the United States remains evil.
"The US is the embodiment of evil, but still complains why you chant 'Death to America,'" the Leader said back then, referring to Trump's remarks about Iran in his earlier State of the Union address.
"First of all, I should tell the American officials: 'Death to America' means death to Trump, [US national security adviser] John Bolton, and [US Secretary of State Mike] Pompeo. It means death to American rulers who are currently these individuals," Ayatollah Khamenei said.