Iran
Iran says UAE ship attack worrying, urges vigilance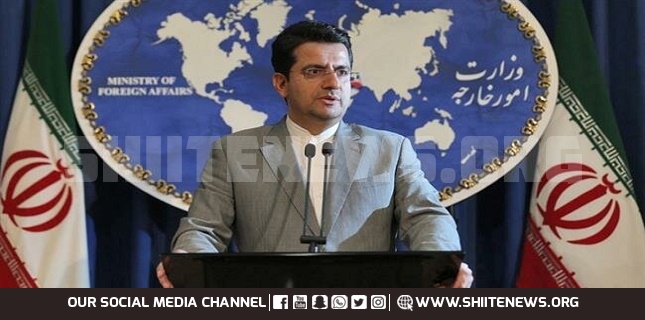 Iran has voiced concern about "adventurism by foreign players" to disrupt maritime navigation in the Persian Gulf region, after the United Arab emirates (UAE) confirmed Sunday that a number of ships had been subjected to "sabotage" off its coast.
In a statement issued early Monday, Iranian Foreign Ministry spokesman Abbas Moussavi described the incident as "lamentable" and "worrying" and called for thorough investigations.
He also warned Persian Gulf neighbors to stay vigilant in the face of plots by "ill-wishers" to undermine maritime security.
The statement came shortly after the UAE foreign ministry, despite initial denial, confirmed that at least four commercial vessels had been subjected to "sabotage" near the Emirates' territorial waters.
The statement added that there were no victims, but fell short of giving any details on possible damage to commercial vessels or which countries' flags they carried.
The Lebanese television network al-Mayadeen broke the news on Sunday, reporting that at least seven tankers had been destroyed in a blaze at the UAE's strategic port of al-Fujairah, one of the world's largest oil bunkering sites near the Strait of Hormuz.
The report stated that several powerful explosions had also been heard at the port.The cause of the explosions has not been ascertained and there has been no claim of responsibility yet, while speculations range from drone or missile attacks from Yemen, to possible dropping of bombs by US forces to ignite tensions in the region.
Reports suggested oil exports were temporarily halted from the UAE, which is building the world's largest crude oil storage facility in Fujairah, capable of storing up to 14 million barrels of oil, outside the Persian Gulf and the Strait of Hormuz.
"Whatever the cause of the explosions and the possibility of forces behind it, the fact cannot be ignored that Saudi Arabia and the UAE are sitting ducks for such attacks which might increase in view of the dangerous policies of these two American client states in terrorizing their own populations and neighbors on behalf of their masters," Tehran-based Kayhan International newspaper wrote on Monday.