Iran
Iran rejected Trump's call for new negotiations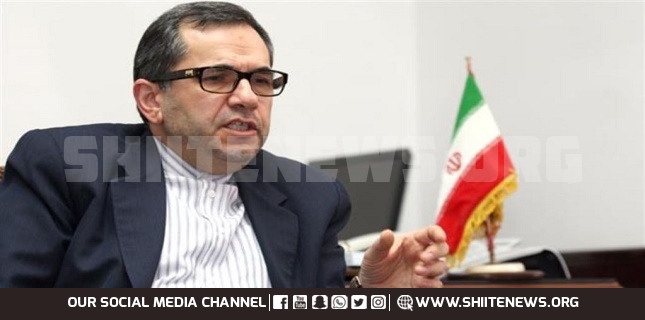 Iran's envoy to the UN has rejected President Donald Trump's call for new negotiations with Tehran, saying Trump's withdrawal from the 2015 nuclear deal signals that he may "renege again" on any future talks.
"All of a sudden he decided to leave the negotiating table. What is the guarantee that he will not renege again on the future talks between Iran and the United States?" said Majid Takht Ravanchi in an interview with the MSNBC TV network Thursday.
The Iranian envoy stressed that Trump had "torn up" the deal despite the fact that it was a multilateral nuclear accord signed by world powers and backed by the UN Security Council.
"The president [Trump] just said that what he wants from Iran is to not have nuclear weapons, apparently he hasn't read the 14 reports of the International Atomic Energy Agency (IAEA) saying that Iran has been upholding all its obligations based on the JCPOA nuclear deal," Takht Ravanchi added.
The UN envoy's comments came after the US president called for negotiations with Iran earlier on Thursday amid escalating tensions over the administration's increasingly hawkish policy towards the Islamic Republic.
Last year, Washington withdrew from the Joint Comprehensive Plan of Action (JCPOA) and reimposed unilateral sanctions that had been lifted under the deal on Iran.
Last month, the US said it would not renew waivers that allowed Tehran's eight largest customers to purchase its oil in a bid to cut Iranian oil exports to zero and exert maximum pressure on Iran. The waivers expired on May 1.
Asked whether Tehran would continue to comply with the nuclear deal following the US withdrawal, Takht Ravanchi said the deal had been greatly undermined by Washington and that Iran would respond based on its national interests.
"Europeans have told us not to rush to get out of the nuclear deal, and we accepted their suggestion and for the last year we have been waiting for any credible and practical response, not just words of support, which are good, but it is not enough," he said.
Iran has complained to Europe for its long-delayed implementation of a promised European financial mechanism designed to bypass US sanctions.
On Wednesday, Iran's President Hassan Rouhani announced a decision made by the Supreme National Security Council (SNSC) for the country to suspend the implementation of part of its commitments under the JCPOA.
According to the decision, Iran will stop selling its excess low-enriched uranium and heavy water as it was contractually obliged under the nuclear deal.
Rouhani said Iran would take further steps in 60 days if the other signatories failed again to ensure that it still benefited from staying in the nuclear accord despite the US's withdrawal.