Iran
Iran President visit to flood-hit provinces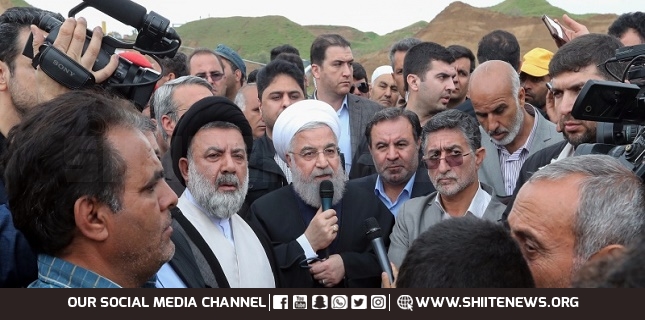 President Hassan Rouhani has visited Iran's flood-stricken provinces of Lorestan and Khuzestan to assess relief operations and pledged to unsparingly support the affected families.
The president took part in a coordination council meeting at Disaster Management Headquarters of Lorestan Province Saturday before visiting the badly-hit city of Pol-e Dokhtar.
"God willing, we will stay with you until your life returns to normal. All the thoughts and efforts of the Leader [of the Islamic Revolution Ayatollah Seyyed Ali Khamenei] are to rebuild this region," he told locals.
"We will also stand with you; all the Armed Forces, the Basij and the people will do," the president added.
Rouhani was accompanied by his chief of staff and ministers of interior; roads and urban development; energy; intelligence and agriculture Jihad.
Speaking at the coordination council meeting, Rouhani said the experience gained during the floods should be used to prepare for possible disasters in the coming years.
The president said once flood relief operations are completed, a specialist committee will try to evaluate Iran's response to the recent floods and determine probable flaws in a six-month probe.
Rouhani further called for the government to focus on facilitating the replacement or reparation of damaged homes, along with long-term measures such as dam construction, riverbed dredging and further water management measures.
The president further praised the Iranian people for acting as "first responders" in the initial stages of the flood.
Rouhani defended the government's response which he characterized as quick, saying electricity had been initially cut in 1145 villages in the Lorestan province but the figure is now six.
He also said almost all of the 961 villages in the province that had problems in their water supply networks face no more disruptions and that only 44 villages out of an initial 860 still lack accessible roads.
The president lauded the relief response, comparing it to that of the United States, where he said electricity and water systems sometimes take "up to a year" to repair.
Rouhani later headed to the oil-rich Khuzestan province where floods have sparked mass evacuations in a few towns.
Massive downpours began sweeping the country on March 19, with raging currents of water battering houses, washing away cars and killing people in a few provinces.
The intense rainfalls eventually caused rivers to burst their banks triggering the worst flooding in decades in 25 of the country's 31 provinces.
According to Interior Minister Abdolreza Rahmani Fazli, the flooding caused an estimated $2.5 billion in damage to roads, bridges, homes and farmland. It affected 4,400 villages, damaged 14,000 kilometers of roads and destroyed more than 700 bridges.
Estimates by government agencies suggest that the floods have taken the lives of nearly 80 people and destroyed over 25,000 houses around the country.