Iran
Ayatollah Makarem urges seminarians to "explain Mahdism to avoid deviation"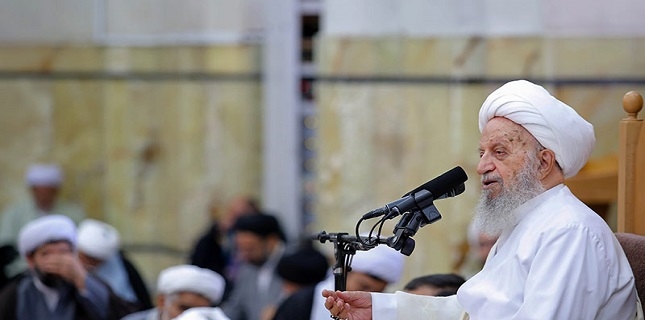 Ayatollah Makarem-Shirazi urges seminary students and clerics to "explain the issue of Mahdism in the society in order to avoid deviation of the nation."
During his jurisprudence class held at Qom's Grand Mosque on Tuesday, Grand Ayatollah Naser Makarem-Shirazi offered his congratulations on the birth anniversary of the twelfth imam, Muhammad al-Mahdi and emphasized the necessity of praying to hasten the reappearance of Imam of the Age.
"Praying is useful and necessary," the Qom-based source of emulation said, adding, "But it is not enough. In the Holy Quran, God in says, 'the earth will finally be ruled by the righteous servants of God.' Thus, training and preparing righteous servants of God so that they are able to bring about the government of divine justice is a condition for the day of the reappearance of Imam al-Mahdi."
He added, "Some people believe that for the whole world to be prepared for the reappearance of Imam al-Mahdi, corruption has to be increased, but the truth is exactly the opposite. We need to train righteous servants of God and strengthen the issues of 'Enjoying the Good' and increase knowledge and Wilayah (Guardianship) in order to prepare society for the reappearance of Imam al-Mahdi."
Ayatollah Makarem-Shirazi also noted, "Seminary students and clergymen must explain and express the issue of Mahdism among the people in order to avoid the deviation of the nation."
His Eminence added, "The soldiers of the 'Imam of the Time' must correctly and clearly elaborate the proofs for the existence of the Imam and the issues related to his reappearance. Seminary students must seek to enhance themselves, the Islamic Seminaries and society in general so that God-willing, they become soldiers and servants for the Imam of the Time.