Iran
Ayatollah Khamenei: Malik Ashtar should be role model in insight, courage, piety for our commanders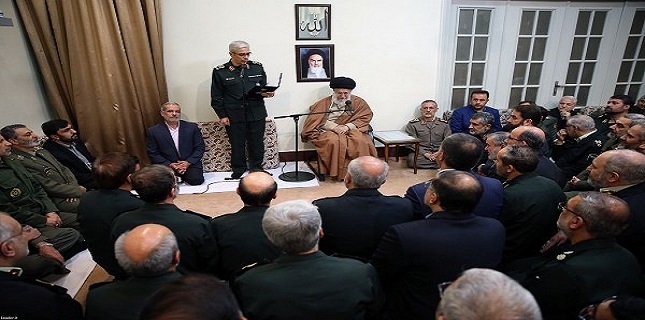 Distinguished participants in the Malek Ashtar Festival met with Ayatollah Khamenei, the Commander-in-Chief of the Armed Forces, today (Sunday), December 3, 2017.
Meeting Senior Commanders of the Armed Forces and the distinguished participants in the Malek Ashtar Festival, Ayatollah Khamenei referred to the continuous hostility of enemies against the Islamic Republic and the Iranian nation and regarded resistance and reinforcing capabilities of the Armed Forces as necessary for encountering animosities.
His Eminence further asserted, "Today the Armed Forces need the best staff with regard to intellectual, scientific and working abilities in order to be able to maintain the nation's invulnerability in the face of animosities."
Expressing gratitude for extending the progressive movement of the Armed Forces in the area of human resources by organizing the Malek Ashtar Festival, the Leader of the Islamic Revolution held: "In order to remain a pioneer in accomplishments, the progressive movement needs to be constant and continuous. Thus, in every part of the system, the staff should work and endeavor continuously to perform their duties and responsibilities."
He described the naming of the festival after Malek Ashtar—a distinguished companions and commanders of Imam Ali (as)—as erudite and stated: Malek Ashtar was a prominent role model in "insight and knowing the right path", "strong will-power", "feeling responsible and readiness for acting for a cause", "bravery and power of commanding" and at the same time in "spirituality, worship of God, piety and humbleness"; the commanders of the Armed Forces must follow these qualities more than others.