Iran
French President disagrees with Saudi Arabia on Iran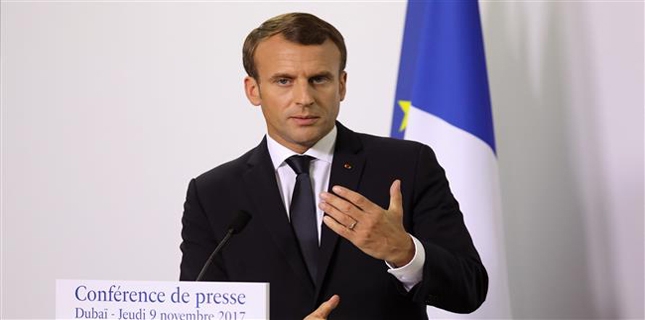 French President Emmanuel Macron has said his viewpoints on Iran do not conform with Saudi Arabia's hardline stance vis-à-vis the Islamic Republic.
"The very tough positions expressed by Saudi Arabia regarding Iran do not conform to what I think [about Tehran]," Le Monde on Friday quoted Macron as having said during a press conference in Dubai on Thursday.
The French head of state, who was wrapping up a two-day visit to the United Arab Emirates, also announced a surprise visit to Saudi Arabia in his presser.
Earlier in the week, Saudi Arabia had blamed Iran for a missile strike on its soil from neighboring Yemen and had said there would be a response "in the appropriate time and manner." The missile had been fired by Yemen's Houthi Ansarullah movement, which has been defending the impoverished country against a deadly Saudi-led invasion since March 2015.
Macron was traveling to Saudi Arabia to obtain information about the fate of Saad Hariri, who has resigned as Lebanon's prime minister.
In remarks made in Riyadh and broadcast by a Saudi-owned television, Hariri announced his resignation and accused Iran and Hezbollah of interfering in the region.
It has widely been seen as a move taken under Saudi influence.
The Lebanese government has said it will not be considering Hariri's resignation until he returns to the country and convinces President Michel Aoun that he had "voluntarily" decided to quit.
Lebanese government officials have also said Hariri is "being held" in Saudi Arabia and his movement has been restricted. Western diplomats, speaking on condition of anonymity, have also told The New York Times that all of the envoys who met with Hariri in a Riyadh location came away with the impression that he could not speak freely.
Macron refused to distance his country any further from Saudi Arabia, however, adding in his Thursday presser, "I believe it's important that we work with Saudi Arabia" to "guarantee stability in the region."
He also claimed that the missile fired at Saudi Arabia had been an Iranian missile.
Iranian officials have denied the claim, saying they have no means of transferring missiles to Yemen, which has been under a land, aerial, and naval blockade by the Saudi-led coalition since the war began.