Iran
Iran key regional player: UN chief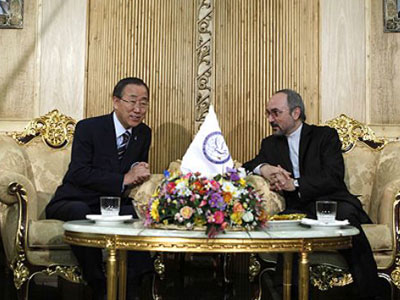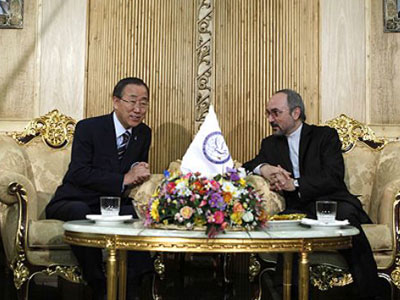 The United Nations Secretary General Ban Ki-moon has described Iran as a key regional player upon his arrival in Tehran to attend the 16th Summit of the Non-Aligned Movement (NAM).
"Iran has a very important role, crucially important role to play in the region, particularly when it comes to the Syrian situation, and I am going to discuss this matter with Supreme Leader [of the Islamic Revolution Ayatollah Seyyed Ali Khamenei] and President [Mahmoud Ahmadinejad]…," he added.
Ban was received by Iran's Ambassador to the United Nations, Mohammad Khazaei on Wednesday.
"I am very pleased to visit Iran on the occasion of 16th Non-Aligned Movement summit meeting and I should thank government of Iran for inviting me and for the warm hospitality. I am already overwhelmed by such a warm hospitality by the people and government of Iran," he said adding, he was "looking forward to having very constructive and useful discussions and meetings with senior leadership of Iran…."
Ban had left New York for the Islamic Republic on Tuesday.
Khazaei said, "The presence of the United Nations secretary general in the 16th Summit of the Non-Aligned Movement indicates the great importance of this summit and its key role in the international relations."
He added that the visit "will last at least for two days…."
The summit is currently in its third day and will last for two more days. Iran's Leader Ayatollah Seyyed Ali Khamenei is slated to address the heads of state meeting on Thursday.
NAM, an international organization with 120 member states and 21 observer countries, is considered to be not formally aligned with or against any major power bloc. Its purpose, as stated in the Havana Declaration of 1979, is to ensure "the national independence, sovereignty, territorial integrity, and security of non-aligned countries."
Last Wednesday, The New York Times wrote that the decision by Ban to attend the summit was proof that the US and Israel's anti-Iran policy had failed to find followers on much of the global scene.
"The American-Israeli campaign" against Iran "is not resonating in much of the world." It noted that Ban's decision "reinforced Iran's contention that a reordering of powers is underway in the Middle East where Western influence is waning."
The US State Department has said the visit "sends a very strange signal…" and Israeli Prime Minister Benjamin Netanyahu has told the UN chief that he would be making "a big mistake" if he joined the summit.