Iran
Shia ideology seeks to create Muslim unity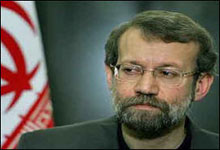 Iran's Parliament (Majlis) Speaker Ali Larijani says Shia ideology has always sought to create Muslim unity, and has stood up to attempts aimed at sowing discord among them."Extremism ruins Islam's face amongst nations, and this is what the enemies of Islam want," IRNA quoted Larijani as saying in a meeting  with Malaysia's Parliament Deputy Speaker Wan Junaidi bin Tuanku Jaafar on Wednesday.
"The enemies of Islam try to accuse real fighters like Lebanon's Hezbollah and the Palestinian Islamic resistance movement (Hamas) of terrorism," he added.
"But the Muslim Ummah (community) knows their value," the Iranian lawmaker went on to say.
Referring to the vast capabilities of Muslim countries in science, Larijani said, "Exchanging knowledge and advanced technologies among Muslim countries provides the grounds for interaction and friendly cooperation, and the development and progress of the Muslim world."
The senior Iranian official described the level of cooperation, and political and parliamentary consultations between Iran and Malaysia as satisfactory, saying that the volume of the two countries' economic-trade relations should also increase.
The Malaysian lawmaker, for his part, described talks with Iranian officials as constructive and said, "Iran's scientific and technological progress is a source of pride for Muslims and belongs to all Muslim nations."
Back to top button