Iran
Iran to P5+1: Stop following up Zionists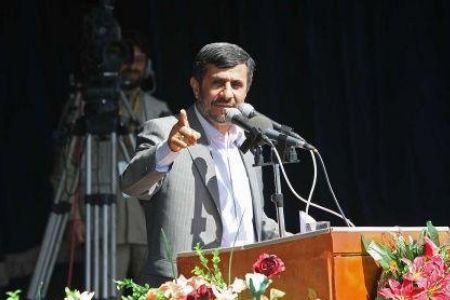 A day after multifaceted talks between Iran and the P5+1, Iranian President Mahmoud Ahmadinejad advises the six major world powers to stop following up the path of Israel.Addressing thousands of enthusiastic people in the northern city of Rasht on Sunday, the Iranian president said certain arrogant Western  powers, including the US, are not interested in resolving issues with Iran.
He added that Iran repeats to the officials of the P5+1 (Russia, China, France, Britain and the US plus Germany) to get rid of pressure by certain "narrow minded" Zionist individuals "if you wants talks to bear fruit."
"In that case, grounds will be prepared for further interaction," Ahmadinejad stressed.
The Iranian chief executive emphasized that talks should be based on justice and respect, saying, "Negotiations should lead to the recognition of legal rights of the Iranian people and other nations."
He warned that animosity with Iran and the Iranian nation would be to the detriment of Western interests and noted that the Islamic Republic welcomes "cooperation and interaction."
The Iranian president further cautioned the P5+1 against the continuation of their previous path and said, "Now that Iranians have become a nuclear nation, hundreds of (countries) like you will not be able to force them to retreat one iota from their positions."
Ahmadinejad noted that the Iranian nation would follow the path of justice, rationale and respect, but will stand up against bullying powers.
The Iranian president said the path of interaction with Iran is still open for the P5+1, adding Iran would not allow anyone to violate its rights.
He pointed to several rounds of negotiations between Iran and the P5+1, and said, "We have never expected that issues will be resolved through two or three rounds of talks."
"However, if the other side is determined and committed to justice, law and respect, one can hope that appropriate results could be achieved in future sessions," President Ahmadinejad went on to say.
Iran and the five permanent members of the United Nations Security Council plus Germany wrapped up their latest round of comprehensive talks in the Turkish city of Istanbul on Saturday.
Following the multifaceted talks, Secretary of Iran's Supreme National Security Council Saeed Jalili told reporters that Tehran is ready for further talks with major world powers provided that its rights are not violated.
He also refuted claims by EU foreign policy chief, Catherine Ashton, that Tehran seeks to set "preconditions on talks relating to enrichment and sanction."
"We are still prepared for further negotiations with the P5+1 on common issues. [We are] prepared for comprehensive talks like we said in Geneva," Jalili said.
Back to top button