Iran
Tehran Friday Prayers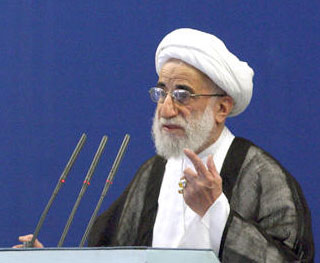 Tehran's interim Friday Prayers leader Ayatollah Ahmad Jannati says Iran's nuclear issue will not be discussed during future comprehensive talks with the P5+1 in Turkey.Iran's nuclear issue "is not up for discussion", Jannati told worshipers in this week's Friday prayers."The negotiating sides should focus on areas of common interest," including peace and international security, global non-proliferation and nuclear disarmament and justice, Â the chairman of Iran's Guardian Council said.
Iran and the P5+1, consisting of Britain, China, France, Russia, the US plus Germany, on Tuesday ended two-day multifaceted talks in Geneva, with both sides agreeing to hold the next round of talks in the Turkish city of Istanbul in late January.
EU foreign policy chief Catherin Ashton, who represents the P5+1, described the negotiations as "detailed" and "substantive."
Ashton added that talks would resume in Istanbul in late January, when "we plan to discuss practical ideas and ways of cooperating towards the resolution of our core concerns about the nuclear issue."
This comes as Tehran made it clear ahead of the Geneva negotiations that the comprehensive talks with the P5+1 would not include the nuclear issue as the case had been resolved.
Secretary of Iran's Supreme National Security Council Saeed Jalili, who is Iran's chief negotiator at the multifaceted talks, told a press conference following the negotiations on Tuesday that Tehran is ready for global cooperation in various areas.
He told reporters that the issue of nuclear weapons is a common concern of the world and that those who have nuclear arsenals have violated the Nuclear Non-Proliferation Treaty.
Jalili, however, stressed that Iran had only agreed to continue the comprehensive negotiations within the framework of "cooperation based on common points."
The Iranian chief negotiator insisted that any other claims were contrary to the agreement and of no value.
Back to top button