Iran
20th int'l seminar on Persian Gulf opens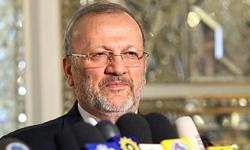 20th International Seminar on the Persian Gulf inaugurated in Bandar Abbas, Hormozgan Province, on Monday, with the speech of Foreign Minister Manouchehr Mottaki.
According to IRIB World Service, addressing the seminar, Mottaki said the Persian Gulf, as one of the most sensitive world regions, has always played a determining role in international political equations.
He regretted that the region's wealth and resources have been plundered by foreign powers through the history.
Regional developments and emergence of global challenges such as financial crisis and terrorism will be among topics to be discussed by participants in the event.
The delegates will also study war and consequences of occupation of the two countries of Iraq and Afghanistan, ecological crises and the necessity for regional cooperation.