Iran
'Beware of enemy's seeds of discord'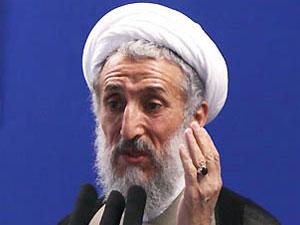 A senior Iranian cleric has warned against schemes aimed at sparking discord among Muslims, hailing Iraqi parties for putting an end to a prolonged post-poll impasse.The enemies have lost hope in progress through military means and have resorted to fueling differences between Shia and Sunni Muslims, and even tried to create a rift within these faiths, Tehran's interim Friday Prayers leader  Hojjatoleslam Kazem Seddiqi said.Shiite News reported.
"Therefore, all [Muslims] need to be aware so that this solidarity is not harmed," IRNA quoted the cleric as saying.
Hojjatoleslam Seddiqi also praised the Iraqi politicians' agreement on the formation of a new government months after the country's inconclusive general elections in May.
"With God's help and despite obstacles [created] by Americans, the former [Iraqi] president and prime minister were reinstated thanks to the awareness on the part of Iraqi people and authorities," Hojjatoleslam Seddiqi said.
He also expressed hope that the Iraqi nation and officials would take substantial steps to restore security and realize a full withdrawal of foreign troops from the country.
He further praised Iran's achievements in science and technology as "exemplary," and warned against measures by the enemy to smother the country's progress.
"The arrogance aims to prevent Iran's development and its confrontation is getting ever-increasingly intricate," he said.
Back to top button