Iran
President: Women played main role in Sacred Defense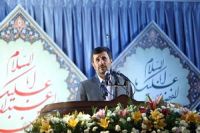 Iran's President Mahmoud Ahmadinejad has said the Iranian women have played a significant and main role in the Scared Defense, Islamic Revolution, and the Iranian nation's resistance until today.
Dr. Ahmadinejad in the National Congress of Female Martyrs in southeastern city of Abadan on Monday said if a nation can stand firm against corrupt powers it's because of the steadfastness of mothers, women, and girls, adding that the tolerance of mothers and women  has created the resistance of Iranian nation.
The president underlined that if a track has remained from the culture of resistance, bravery, dignity and godliness, that's because of Islamic women's devotion and graciousness.
Iran's president has gone to Abadan to take part in the National Congress of Female Martyrs and Martyr Maryam Farhanian.