Iran
Tehran's Friday Prayers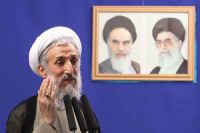 Tehran's interim Friday prayers Leader, Hojjat-ol-Islam Kazem Sedighi , has said the great act sedition, conspiracy and insolence by the Zionist and a few Western countries, namely the burning of the Holy Quran, is really an attempt to halt the spread of Islam in the world.
Addressing a massive crowd of the faithful and Friday prayers worshippers in Tehran, Hojjat-ol-Islam Kazem Sedighi emphasized this  obscene and despicable, insulting and offensive act against the Holy Quran, has been designed and carried out by the enemies in order to confront Islam and gauge the faith, adherence and sensibilities of Muslims to the Holy Quran and to Islam.
In further remarks, Tehran's interim Friday prayers Leader said with this action, Western countries have really brought about the conditions for their own collapse and downfall, adding: "The brave Iranian nation will never forget this sacrilegious and despicable act".
Turning to the devastating floods in Pakistan, Tehran's interim Friday prayers Leader referred to the depth of the disaster in Pakistan, the huge extent of the floods, and urged all Muslim nations, and in particular the faithful and generous people of Iran to continue sending much-needed humanitarian aid and relief supplies to the Pakistani flood victims, many of whom have been made homeless by this disaster.
Elsewhere in his remarks, Hojjat-ol-Islam Kazem Sedighi referred to the Sacred Defense Week in Iran, and praised the sacrifices made during eight-years of imposed war on Iran. He said eight years of Sacred Defense was really a miracle, in many ways, which proved wrong and confounded many Western predictions that the Sacred Islamic system of government in Iran would be defeated.