Iran
Rafsanjani Calls for Vigilance against Global Arrogance's Plots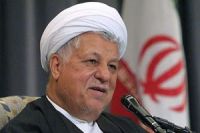 Head of the Assembly of Experts, Ayatollah Akbar Hashemi Rafsanjani, today termed the international situation and the plots of Global Arrogance against the Islamic Republic of Iran, as an important test for the country's system.
According to IRIB, at the inaugural ceremony of the 8th official meeting of the Assembly of Experts, he called on his colleagues to properly  study the international conditions including ways that might aggravate the situation and measures which strengthen the position of the Islamic Revolution.
Rafsanjani considered the Islamic Revolution unique in the history of Iran and Islam and called for strengthening it.
He added that over the past 31 years even during the 8-year war the US had imposed on Iran in the 1980s through Saddam, Global Arrogance had not embarked on such a calculated plot against the Islamic Republic.