Iran
Iranian students to stage protest gathering against insult to Holy Quran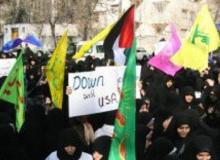 Iranian university students are to hold a gathering in front of the Swiss Embassy in Iran on Monday to protest against insult by a US pastor to Islamic sanctities, the holy Quran in particular.
Secretary of the Union of Islamic Associations of  Independent Students nationwide, Mohammad Afkaneh told Iran News Agency the protest is due to be held at 16:00 hours local time outside Swiss Embassy that sees to the US interests in Iran.
The US pastor Terry Jones of Florida had had threatened to burn copies of Quran.
The pastor's bid to burn Quran, the religious book of Islam, sparked worldwide protests from Muslims and Christians against the issue, Afkaneh said.