Iran
Grand Ayatollah condemns silence of human rights advocates on Zionist Crimes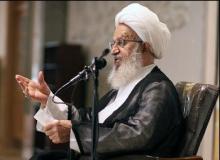 Source of Emulation, Grand Ayatollah Nasser Makrem Shirazi, condemned the silence of human rights groups against the crimes of the illegal Zionist entity.
The silence of the UN Security Council and human rights organizations vis-à -vis Israel's crimes against humanity, he said peace with them is not reasonable.
The Grand Ayatollah deplored that the UN Security Council and self-styled human rights groups continue to support Israel despite the fact  that the crimes of the Zionist entity are greater in magnitude than any other crimes.
On Last May's Zionist attack on the Gaza-bound Freedom Flotilla that killed a number of peace activists, he said the people on board had no weapons and were merely transporting humanitarian aid to the innocent people of Gaza, but no voice of protest was heard from the human rights advocates on their massacre by Israel.