Iran
Iran does not negotiate with the US, Tehran Prayer leader.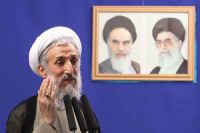 Tehran's interim Friday Prayer Leader Hojjatoleslam Kazem Seddiqi has once again announced that Islamic Republic of Iran does not negotiate with the US.
He went on to point out that the contradiction of the Global Arrogance, especially the US, with Islamic Republic of Iran is a contradiction in nature and under these circumstances, holding negotiations with the US is meaningless.
He went on to add that meanwhile Islamic Republic of Iran is ready for talks; but negotiations that would not be  unilateral.
Tehran interim Friday Prayer leader noted that following the victory of Islamic Revolution, the Global Arrogance stood against the sacred Islamic establishment, because it could not bear the influences of the Islamic Revolution, especially in regard to awakening Muslims.
On the US and Zionist regime's threats against the Iranian nation, he noted that the Zionist regime of Israel is a spurious entity, which has no place in Islamic Republic of Iran's equations.
He also referred to the destructive floods in Pakistan and called on Muslims, especially the Muslim nation of Iran to help the flood victims in Pakistan as much as possible.
The destructive flood in Pakistan has claimed 1,600 lives and has led to homelessness of 20 million Pakistanis, while also inflicting damages amounting to $43bn.
As of the very start, Iran has sent a number of humanitarian aid consignments to Pakistan.
Tehran interim Friday Prayer Leader also referred to the recent remarks of the Leader of Islamic Revolution Ayatollah Seyed Ali Khamenei in the presence of the country's senior officials, while terming these remarks as "highly constructive and valuable".