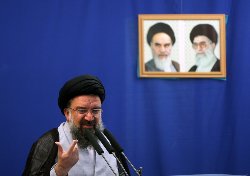 Tehran's interim Friday Prayer Leader Ayatollah Seyed Ahmad Khatami has said that the US cannot do anything against the Islamic Republic of Iran.
Referring to recent allegations of the Chairman of the US Armed Forces Joint Chiefs of Staff, Michael Mullen, who had claimed that he maintains the plan for a military attack on Iran, Ayatollah Khatami pointed out that in the past 31 years the US has failed to do anything  against Iran and currently it is still incapable of conducting an imprudent measure against the sacred Islamic system.
Ayatollah Khatami noted that the threats leveled by US officials are a psychological warfare, while underlining that an attack on Iran would threaten US interests across the globe.
He underscored that if the US would use the Zionist regime against Islamic Republic of Iran, the spurious Zionist entity would be wiped out.
In further remarks, Ayatollah Khatami enumerated the US double standards against Iran, and said the US administration is a deceptive and unsustainable government which is not committed to international laws.
He reiterated that if the international community is concerned about global peace it should know that the main danger is posed by the spurious Zionist entity and till this spurious regime exists, global peace will not be established.
Ayatollah Khatami emphasized that for gaining access to global peace the entire world should stand against the Zionist regime of Israel.
Tehran's interim Friday Prayer leader also referred to a few traitor politicians in the country as of the early days of Islamic Revolution to this date, while adding that those, with strong religious beliefs are at the front line of defending the country and many of the so-called nationalists have betrayed the country.