Iran
Grand Ayatollah Makarem-Shirazi Zahedan bombing must not cause Shia-Sunni disunity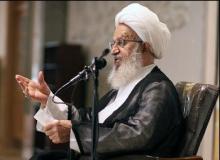 In a statement issued on Saturday, Grand Ayatollah Naser Makarem-Shirazi said the nation must not let the Zahedan incident create any kind of discord among Shia and Sunnis.
On Thursday, two bombs were detonated in quick succession in front of the Zahedan Grand Mosque in the southeastern province of Sistan -Baluchestan. At least 27 people lost their lives and nearly 300 others were injured in the incident.
Iranian police have arrested 40 people in connection with the twin bomb attacks.
In his statement the ayatollah blamed Wahhabisim for the vicious act.
Blind assassination and brutal killing shows Wahhabists' alienation from Islam, and the fact that all the victims were Muslims shows their link with the Zionist regime and the global arrogance, the statement reads.
He also extended his heartfelt condolences to the families of the victims and called on security officials to identify those involved in the incident as soon as possible.
The Jundullah terrorist group, whose former ringleader Abdolmalek Rigi was executed at Tehran's Evin prison on June 21, has issued a statement claiming responsibility for the attacks.
In a similar statement, the World Forum for Proximity of Islamic Schools of Thought, denounced the terrorist incident, saying that it was a plot hatched by the enemies of Islam and unity among Muslims.
Such incidents will not destroy the unity among the Iranians and will not undermine the values for proximity of Islamic schools of thought, the statement reads.
It said the U.S. formed the terrorist Jundallah group to sow discord between Shiite and Sunni Muslims and to destabilize the eastern part of the country in order to deal a heavy blow to the Islamic Republic of Iran.