Iran
Zahedan bombings victims laid to rest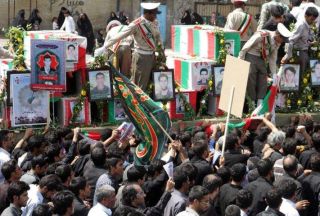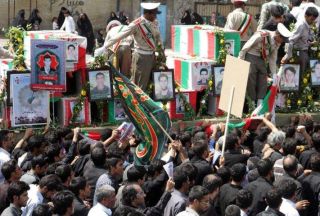 The bodies of 27 people killed in a terrorist attack in Iran's southeastern Sistan-Baluchestan Province have been laid to rest amid public mourning.According to the Shiite News Correspondent, Tens of thousands of grieving mourners massed in the city of Zahedan to bid farewell to their loved ones who were killed in the twin explosions on July 15, IRNA reported on Saturday.
On Thursday, two bombs were detonated in quick succession the southeastern city, killing at least 27 people and injuring more than 270 others.
Meanwhile, Iran's parliament speaker says the US should be held accountable for the incident.
The terrorist group Jundallah has claimed responsibility for the attacks; however analysts say the group is unlikely to have carried out the attack since it was effectively disbanded after its ringleader Abdolmalek Rigi was executed in Iran last month.
It is widely believed that hard-line Wahabis and Salafis trained by the CIA Â are the main elements behind the bombings.
Sistan-Baluchistan province borders Afghanistan and Pakistan.
Back to top button