Iran
Tehran's Friday Prayers Sermons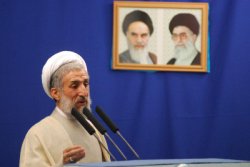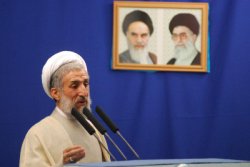 Tehran interim Friday Prayer Leader Hojjatoleslam Kazem Seddiqi has condemned the terrorist operations in the city of Zahedan, southeastern Iran, and has named the US as the main perpetrator behind this act of terrorism. 
Referring to two explosions in front of city of Zahedan's Jameh Mosque on Thursday night, in which according to latest reports 27 people have been martyred and 169 others have been wounded, Tehran interim Friday Prayer leader said that once again the US committed another crime through its mercenaries. He pointed out that the US administration failed to achieve its ominous goals through abducting the Iranian researcher, Shahram Amiri, and the US government tried to overshadow its failure via commitment of this heinous crime in the city of Zahedan.
In further remarks, Tehran interim Friday Prayer leader said the Iranian nation, through the 31 years after the victory of Islamic Revolution, has stood firm against all pressures, threats, terrorism, and bullying and the further the pressures, the stronger the Iranian nation becomes.
He congratulated the birth anniversary of Hazrat Abal Fazl (PBUH), the brother of the third infallible Imam of the Prophet of Islam Mohammad (PBUH) Household, Imam Hussein (PBUH), which marks the Day of War Veterans, in addition to Birth Anniversary of Imam Hussein (PUBH) which has been marked as the Day of Islamic Revolutionary Guards, while thanking the war veterans of the Islamic Revolution and imposed war, as well as Islamic Revolution Guards Corps (IRGC). He noted that IRGC members are the true followers of Imam Hussein (PBUH) and have managed to stand firm and steadfast against the enemies of the sacred Islamic system.
He also criticized the crimes committed by the Zionist regime against the Palestinian population of Gaza, while naming the US and a few Arab states as partners in crime in oppression of Palestinians. He underlined that due to this fact, today the US administration and a number of Arab rulers are despised more than ever.