Iran
Tehran's Friday Prayers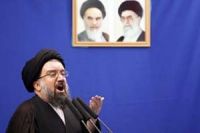 Tehran's interim Friday Prayers Leader, Ayatollah Seyyed Ahmad Khatami, has said if Iranian cargo ships are inspected , the Islamic republic of Iran will be decisive in its response and take similar retaliatory measures.
Speaking to a massive crowd of Friday prayers  worshippers and the faithful in Tehran, Ayatollah Seyyed Ahmad Khatami referred to the anti-Iran resolution 1929 issued by the UN security council, saying the Iranian nation are the followers are the holy prophet of Islam, Prophet Mohammad ( PBUHAHP ) , who was victorious against the infidels and unbelievers, stressing that the Iranian nation will overcome the enemy, and will turn every threat into an opportunity.
Elsewhere in his remarks, Tehran's interim Friday Prayers Leader emphasized that one of the aims of the anti-Iran resolution was to pressure the Islamic Revolutionary Guards Corps, IRGC, stressing that the sanctions resolution will have no effect on the authority and popularity of this sacrosanct institution.
Ayatollah Seyyed Ahmad Khatami went on to criticize the unilateral sanctions of the EU and United States against Iran, urging the Europeans not to tow the US line, and not to tie their own fate with the fate of the United States – a country which is on its way down.
In further remarks, Tehran's interim Friday Prayers Leader expressed sadness at the passing away of Lebanon's most prominent religious authority, and the spiritual father of Lebanon's Islamic resistance, Allameh Seyyed Mohammad Hussein Fadlallah, who was also a staunch supporter of the Islamic revolution and of the Leader of the Islamic revolution. Ayatollah Seyyed Ahmad Khatami expressed his condolences to the family and friends of Allameh Fadlallah , as well as the Islamic resistance movement in Lebanon, and in particular, the secretary general of the Hezbollah movement, Seyyed Hassan Nasrollah.
Turning to Iraq, Ayatollah Khatami roundly condemned the recent series of terrorist attacks which resulted in the martyrdom of dozens of Shiite pilgrims , blaming extremist "Vahabees" and "Takfiris" for these vile atrocities.