Iran
Tehran's Friday Prayer Sermons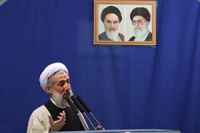 Tehran's interim Friday Prayers Leader Hojjatoleslam Kazem Seddiqi has said that Iran's Islamic Revolution is not scared of the threats leveled by Western states.
Referring to the ratification of the anti-Iran Resolution 1929 at United Nations Security Council (UNSC), the interim Friday Prayer  Leader termed UNSC as a disgraced council, and added that a nation which relies upon God is not scared, and the further the mischievous conduct of the Western states against Iran's Islamic Revolution, the more the unity and solidarity of the Iranian people.
He considered the enmity of the Western states against Islamic Republic of Iran to be rooted in their incorrect understanding of the Islamic Revolution, while adding that Iran's Islamic Revolution has stood firm against the pressures imposed by Western states.
He pointed out that the Iranian nation staged the Islamic Revolution while the arrogant forces and military missionaries were in the country. But with the prudent leadership of the Founder of Islamic Republic of Iran, late Imam Khomeini (May his soul rest in peace), the Iranian nation threw these arrogant forces out and established the Islamic ruling system.
Also referring to Western states' support for the sedition that took place last year following the presidential elections in Iran, Hojjatoleslam Seddiqi said that the grand Iranian nation has had, and currently has an epic presence in all different scenes of the Islamic Revolution.
Tehran's interim Friday Prayer leader also addressed the enemies of the Islamic Revolution and reminded that the Iranian nation is standing firm against the bullying powers, and proved during the eight-year imposed war that it is determined in the fight against injustice.