Iran
Ayatullah Khamenei: World thirsting for Iran message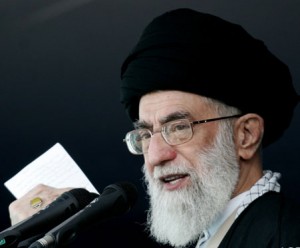 The Leader of the Islamic Revolution of Iran Ayatullah Sayyed Ali Khamenei on Monday said that the enmity of domineering powers towards Iran stems from the Islamic Republic's message of deliverance. 
"The message of the Islamic establishment is one of values, humanity and deliverance of nations from the grip of domineering powers and world nations thirst for such a message," said Ayatollah Sayyed Ali Khamenei. 
The Leader of the Islamic Revolution, Ayatollah Seyyed Ali Khamenei, speaking on the anniversary of the liberation of the south western Iranian port city of Khorramshahr, has described 24th May (3rd Khordad on the Iranian Calendar) as an unforgettable day in the history of the Islamic revolution and the history of Iran.
The Leader added that the resistance of the Iranian nation against three decades of continued confrontation in the form of military invasion, political inroads and other threats has helped strengthen the Islamic establishment. 
Ayatollah Khamenei praised the courageous Iranian armed forces in a ceremony held to commemorate the 28th anniversary of the Liberation of Khurram-shahr. Â 
Referring to the famous phrase that "God Liberated Khurram-shahr", by the late founder of the Islamic republic, Imam Khomeini (may his soul rest in peace), Ayatollah Khamenei reminded the audience that this particular remark by the late Imam was the most accurate, and philosophically wise comment ever made about the war and liberation of Khurram-shahr, since the Almighty God's power manifested itself through the steely determination, novel initiatives and fighting power of the Islamic forces who liberated Khurram-shahr in the epic Beit-ul-Moghaddas operation. 
"Today, the same parties are confronting the Iranian nation that once backed and supported the enemy of the Iranian nation," the Leader added. 
"The enemies of the Iranian nation seek to invert the truth with their propaganda. This is while they themselves are the source of insecurity and crime in most regions of the world, especially in Afghanistan, Pakistan, Iraq, and occupied Palestine." 
"The enemies of the Iranian nation will definitely suffer defeat just as they did in 1982," the Leader added.