Iran
LEADER STRESSES TEACHERS' VITAL ROLE IN SOCIETY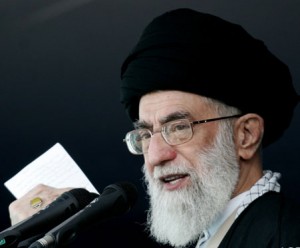 Supreme Leader of the Islamic Revolution, Ayatollah Seyyed Ali Khamenei, has reiterated that threats and obstacles cannot hinder the speedy and determined march forward of the Iranian nation.
In his speech to thousands of teachers from across the country, he referred to animosity and malicious ploys of the ill-wishers of the Iranian nation and their obstructionist policies concerning the country's progress and development as something not unexpected over the past 30 years, and dismissed as ineffective the hue and cry of the enemies.
 
Ayatollah Khamenei described the current world situation as disgusting in view of spread of vices, saying: if the Iranian nation attained its due and entitled status, it could change the fate of the world of Islam, which will surely lead to reforms in the world.
Meantime, he shed light on the vital and indispensable role of teachers in training and building innovative, thoughtful, faithful, inventive and with self-confidence people that will help and guarantee forward movement of the country in different fields.
The Supreme Leader said the Iranian nation should reach a level of progress and perfection that enables it to act as a source in intellectual, scientific, political, and social arenas for other nations and the truth-seeking in the Islamic world.
He stressed it as a historical duty for the people in the Islamic Republic of Iran.
Ayatollah Seyyed Ali Khamenei paying tribute to Martyr Ayatollah Morteza Motahhari on the occasion of Teachers' Day, recalled him as a great teacher and a perfect and responsible instructor.
The Leader said unlike those claimers of so-called intellectual religiosity, who real ideas are hidden behind a supposedly religious cover, Ayatollah Mottahri conveyed the true concepts of religion and religious teachings in harmony with the needs of today's world.