Iran
Biggest Shia, Sunni blocs in Iraq parliamet discuss post-Daesh future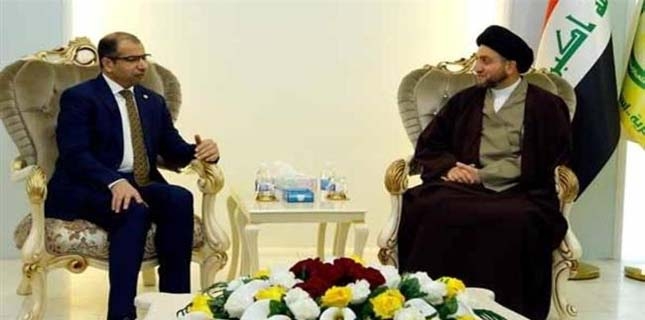 Leaders from the Shia National Iraqi Alliance (INA) and Sunni Iraqi Forces Coalition (IFC) worked out the deal, meeting at Parliament Speaker Salim al-Jabouri's residence on Monday, media reports said.
The meeting, the first one envisaging the pragmatics of a Daesh-free Iraq, featured talks between Jabouri and INA Leader Ammar al-Hakim.
"A quasi-agreement on a settlement was reached," the Sunni grouping's Matshar al-Samarrai said.
According to Jabouri, the two sides agreed on the importance of abandoning a "winner-takes-all mentality," and saw eye to eye that compromise and cooperation were necessary towards rebuilding the country from the ravages of the 2014-present Daesh-led terrorism.
Samarrai said he had asked the INA to "launch initiatives that will build hope among political factions. These initiatives should include the return of displaced persons to their cities, restoration of land to residents…and release of those innocently imprisoned."
Joint volunteer and military forces are, meanwhile, leading a push to flush Daesh out of the northern city of Mosul, its last stronghold in Iraq.
Iraqi Prime Minister Haider al-Abadi said on Tuesday that it would take three months to rid the country of the group.