Iran
Iran denounces terrorist attack in Iraq's Karbala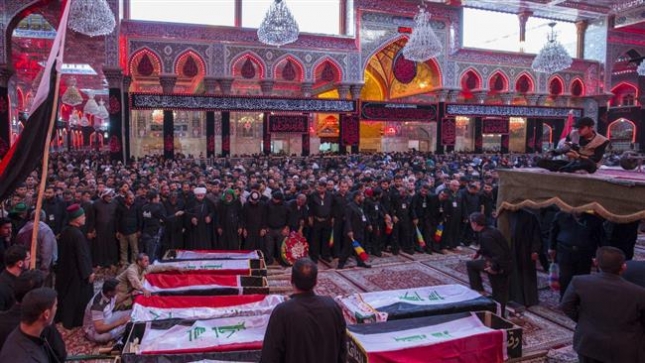 The Iranian Foreign Ministry has denounced a terrorist attack in a town in the Iraqi province of Karbala which killed innocent civilians, including women and children.
At least eight people have been killed and six injured in the terrorist attack in the Ain al-Tamer town, west of Karbala, early Monday.
Iranian Foreign Ministry Spokesman Bahram Qassemi on Monday expressed sympathy with the Iraqi government and nation as well as the families of the victims.
He said Takfiri terrorists once again attacked defenseless people as huge crowds of Shia Muslims are traveling on foot to Karbala to attend special mourning rituals.
The Iranian spokesperson added that the attack left "another stain" on the Takfiri terrorists' record in the region.
Qassemi also once again reaffirmed Iran's full support for the Iraqi government and nation in their fight against terrorism.
Iraq's Interior Ministry spokesman Brigadier General Saad Maan said the terrorist attack occurred after six individuals wearing explosive belts "infiltrated into al-Jihad neighborhood" in the Ain al-Tamer town.
He added that security forces had identified the terrorists, engaged them and killed five of them. The sixth one, however, broke into a house and blew himself up.
Daesh terrorist group issued a statement claiming responsibility for the blast.
Hundreds of thousands of Shia Muslims from across the world are taking part in a march toward Karbala to attend mourning rituals on Arba'een, which marks 40 days after the anniversary of the martyrdom of Imam Hussein (PBUH), the grandson of Prophet Muhammad (PBUH).
Iraqi army soldiers, backed by pro-government fighters from Popular Mobilization Units and Kurdish Peshmerga forces, are fighting the Daesh terrorists back.
Forces have tightened security for the mourners on their way to and in Karbala.