Iran
Bogus Western military coalition not after terror eradication: Leader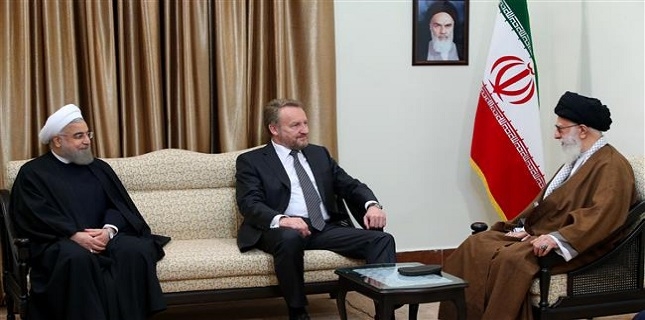 Leader of the Islamic Revolution Ayatollah Seyyed Ali Khamenei says the military coalition established by Western governments allegedly to combat terrorism is not real and does not seek to uproot the malicious phenomenon.
"Although such coalitions may even engage terrorists in some instances, they are not after genuinely rooting out terrorism in Iraq or in Syria," the Leader said in a meeting with the visiting chairman of the Presidency of Bosnia and Herzegovina, Bakir Izetbegovic, in Tehran on Tuesday.
Ayatollah Khamenei added that "bad and evil" policies pursued by the Western countries are exacerbating problems facing humanity on a daily basis.
The Leader pointed to the overflow of Takfiri terrorism into Europe and the potential aggravation of this problem in the future, stating, "The Arab region is apparently the birthplace of this phenomenon but the American government and some European governments are in reality the main factors behind the occurrence of such events."
Ayatollah Khamenei said the resolution of the current crises hinges on an understanding of their causes and the existence of the determination to resolve them.
"The humiliation of young Muslims in some rich and powerful European countries creates grounds for them to join deviant terrorist groups such as Daesh and these humiliated youths embark on bombing and killing upon their return to Europe," the Leader added.
The Leader further expressed the Iranian government's full readiness to improve cooperation with Bosnia and Herzegovina in various political and economic sectors and boost bilateral coordination in international communities.
Ayatollah Khamenei emphasized that independent countries must reduce rifts and conflicts by strengthening relations and refusing to be swayed by the policies of arrogant powers.
During the meeting, which was also attended by Iranian President Hassan Rouhani, the chairman of the Bosnian Presidency said his country's policy was to strengthen relations with Muslim nations.
Izetbegovic stressed the importance of improving collective cooperation to fight terrorism and said all senior Bosnian officials strongly reject and counter the Takfiri ideology.
He expressed regret over the outbreak of conflicts in Muslim countries and said all Muslims are duty-bound to reinforce their unity as discord would lead to their weakening.
The Bosnian official also hoped that relations between Tehran and Sarajevo would result in effective economic cooperation and serve common interests of both sides.
Izetbegovic arrived in Tehran on Monday at the invitation of the Iranian president. He held separate talks with Rouhani, Iran's Parliament Speaker Ali Larijani, and Chairman of the Expediency Council Akbar Hashemi Rafsanjani on Tuesday.
Also on Tuesday, Iranian and Bosnian officials signed a memorandum of understanding on the promotion of business cooperation and mutual investment in the presence of Rouhani and Izetbegovic.