Iran
Iran condemns terror attack in Pakistan's Quetta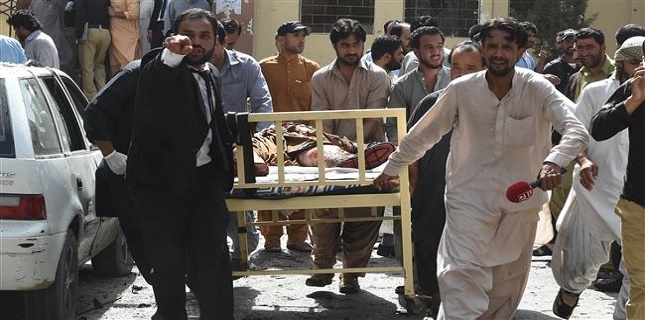 Secretary of Iran's Supreme National Security Council (SNSC) Ali Shamkhani has denounced a terrorist attack at a hospital in the restive city of Quetta in southwestern Pakistan.
"Terrorists and extremists have targeted all manifestations of the normal life and existence of human societies," Shamkhani said in a message to Naseer Khan Janjua, an adviser to Pakistani Prime Minister Nawaz Sharif on national security, on Monday.
He added that stirring hatred and committing crimes against humanity are the only ideal and the actual conviction of terrorists and extremists.
The SNSC secretary stressed the importance of enhancing cooperation between Tehran and Islamabad in the fight against the ominous phenomenon of terrorism, saying that measures must be taken to fully combat the root causes of the creation and spread of terrorist ideas which are killing innocent people and tarnishing the Islamic identity.
The senior Iranian official emphasized that terrorism cannot be uprooted without sincere efforts by the international community to block the flow of financial and arms assistance to terrorists.
He also expressed his condolences to the Pakistani government and nation and bereaved families of the victims.
At least 93 people were killed and dozens injured when a bomb explosion ripped through the emergency ward of a major hospital in Quetta, the provincial capital of Balochistan, on Monday.
The incident took place when a group of lawyers gathered in the hospital to accompany the body of a prominent attorney who had been shot earlier in the day.
Bilal Anwar Kasi, who was the former president of Balochistan Bar Association, was shot dead by unidentified gunmen in the city.
Balochistan has been witnessing ethnic violence and numerous attacks for years, with minority Shia and Hazara communities being the regular targets of kidnapping and murders by extremist militants.
​The poverty-stricken province, which is rich in gas and mineral resources, shares borders with neighboring Afghanistan to the north.