Iran
UN betrayed Yemeni children by de-listing Saudi Arabia: Iran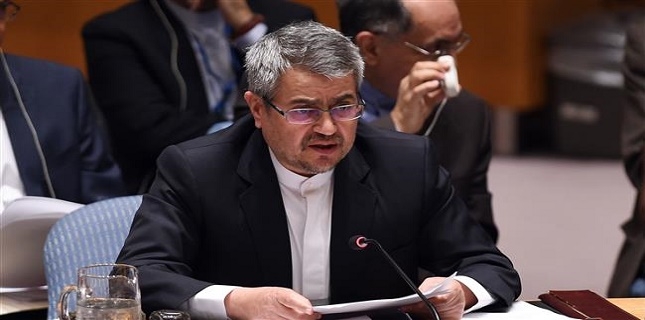 Iran says the United Nations (UN)'s decision to temporarily reverse the blacklisting of Saudi Arabia for killing Yemeni children amounts to a betrayal of the defenseless minors.
Gholam-Ali Khoshroo, Iran's ambassador and permanent representative to the UN, made the remark at a UN Security Council meeting to discuss children and armed conflict on Tuesday.
Back in June, the UN blacklisted Saudi Arabia after concluding in a report that Riyadh had been responsible for 60 percent of the 785 deaths of children in the Saudi war on Yemen last year. A few days later, however, the world body announced that Saudi Arabia would be taken off the list pending a joint review with Saudi Arabia.
Khoshroo told the Security Council meeting that the about-face took place under "financial and political pressure."
The reversal equaled the "betrayal of the rights of the most vulnerable portion of the [Yemeni] civilian population, namely children, for whose very protection the international mechanism has been designed," he said, referring to the UN.
"Have the airstrikes in Yemen, which have so far killed hundreds of Yemeni children, led to anything other than [prompting] the growth of al-Qaeda and the Daesh?" the Iranian envoy asked.
Yemen has been under relentless military attacks by Saudi Arabia since late March 2015, with internal sources putting the death toll from the aggression at about 10,000.
Khoshroo adduced to the latest report by the UN Secretary General Ban Ki-moon, saying attacks on Yemeni children had, over the last year, reached 1,953 instances, which reflected a six-fold increase.
After deciding to remove Saudi Arabia from the blacklist of countries that kill and maim children, Ban himself admitted that the decision had been made under "undue pressure."
Speaking at the same Security Council meeting on Tuesday, Ban said he still had "very strong concerns about the protection of Yemeni children" despite a series of measures Saudi Arabia has purported to take to protect children in Yemen.
Riyadh reportedly outlined the measures in a 13-page confidential letter to the UN chief last week.
Ban said the Saudi measures had fallen short of safeguarding the lives of Yemeni children.