Iran
P5+1 to forever regret any JCPOA violation: Iran cleric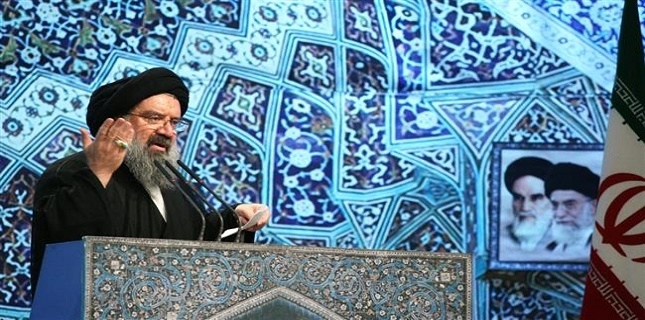 A senior Iranian cleric has reiterated Iran's commitment to its obligations under last July's nuclear agreement with the P5+1 group of countries, warning that the six world powers will "regret forever" any violation of the deal.
"We are committed to our obligations, but if they violate their obligations, the Iranian nation and the Islamic establishment will make them regret forever," said Ayatollah Ahmad Khatami during a sermon to worshipers at Friday prayers in Tehran.
He rejected as "unfair and biased" the latest report by United Nations Secretary General Ban Ki-moon on the implementation of UN Security Council Resolution 2231 that endorsed last July's nuclear agreement, known as the Joint Comprehensive Plan of Action (JCPOA).
He expressed regret that the UN chief's report, which calls for halting Iran's missile tests, overlooked several US Congress bills that are "against the spirit of the JCPOA".
The issue of "our missile program has nothing to do with neither the UN secretary general nor the JCPOA," Khatami pointed out.
In his first biannual report to the 15-member Security Council earlier in July, Ban said Iran's ballistic missile launches "are not consistent with the constructive spirit" of the JCPOA.
"I call upon Iran to refrain from conducting such ballistic missile launches since they have the potential to increase tensions in the region," the UN chief wrote in his report.
Iran and the five permanent members of the UN Security Council — the United States, Britain, France, China and Russia — plus Germany started implementing the JCPOA on January 16.
Under the deal, all nuclear-related sanctions imposed on Iran by the European Union, the Security Council and the US should be lifted. Iran has, in return, put some limitations on its nuclear activities.
However, months into the JCPOA's implementation, Iran complains that the promised economic benefits have yet to materialize, and that it still does not have access to global financial markets.
Many international banks still shy away from financing trade deals and processing transactions for fear of US retribution.
Tehran has warned that it can restore all those aspects of its nuclear program that it has agreed to limit under the deal if it is violated by the six countries.
The Iranian cleric further emphasized that the UN secretary general's report will make Muslim nations understand that resistance is the only way to counter the global arrogance.