Iran
Saudi Arabia must drop its hostile policies against the Islamic Republic: Javad Zarif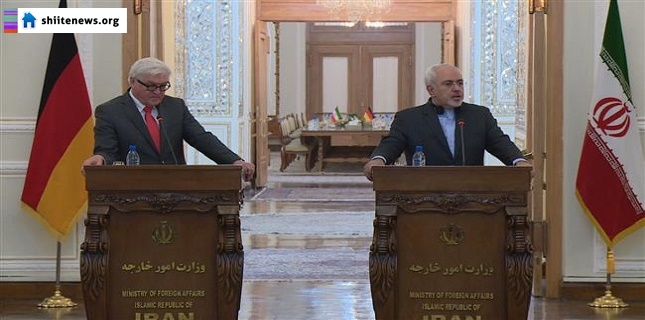 The Iranian foreign minister says Saudi Arabia must drop its hostile policies against the Islamic Republic.
"Saudi Arabia has been pursuing hostile policies against Iran. The Saudi government should reconsider its policies," Mohammad Javad Zarif said at a joint press conference with German Foreign Minister Frank-Walter Steinmeier in Tehran on Tuesday.
He noted that Iran has never been looking for "tensions of any kind" with its neighbors, Saudi Arabia in particular.
Zarif further reiterated Iran's calls for "rational behavior" on the part of the Saudi government.
The Iranian minister also said the execution of prominent cleric Sheikh Nimr al-Nimr last month by the Saudi regime was unacceptable, adding that the religious scholar had not committed any act against Saudi national security.
He also said that the ensuing attack against the Saudi embassy in Tehran, which led to the severance of ties between Tehran and Riyadh, was "against our national security." Iranian officials strongly condemned the attacks on the Saudi diplomatic missions, with over 100 people arrested.
"However, the Saudi policy has been hostile in this regard…We recommend Saudi Arabia to abandon haste wrath and opt for wisdom," said Zarif.
Earlier, the two foreign ministers discussed the latest regional and international developments.
Don't let terrorists join Syria talks: Zarif
Zarif referred to ongoing peace talks in Geneva on Syria, saying "terrorists" and those aiding "extremist" groups in the Arab country must not be allowed to join the negotiations.
"Such action will discredit the UN and the talks," he warned.
The Iranian foreign minister also reiterated Tehran's position that no external factor could decide for the future of Syria.
"Those who had laid out preconditions for negotiations in Syria caused war and bloodletting," Zarif said.
The ongoing UN-brokered talks in Geneva are to be held in an 18-month timetable under a resolution unanimously approved by the UN Security Council.
Adopted on December 18, 2015, the resolution calls for a nationwide ceasefire in Syria and the formation of a "credible, inclusive and non-sectarian" government within six months as well as UN-supervised "free and fair elections" within 18 months.
Iran ready to negotiate with Saudi: German FM
In his meeting with Zarif, the German foreign minister said he found out that Iran is ready to hold negotiations with Saudi Arabia to improve relations and that Tehran has taken steps in this regard.
Asked whether Steinmeier would mediate between Tehran and Riyadh given his plan to visit the kingdom after the Islamic Republic's trip, the German minister added that there is no need to mediate between the two neighboring countries.
Heading a high-ranking politico-economic delegation, Steinmeier arrived in Tehran on Tuesday to hold talks with senior Iranian officials.
The German minister will hold talks with Iran's President Hassan Rouhani and Parliament (Majlis) Speaker Ali Larijani on Wednesday.
This is Steinmeier's second visit to Tehran after the conclusion of the nuclear agreement between Iran and the P5+1 group of countries, dubbed the Joint Comprehensive Plan of Action (JCPOA), in July 2015.
The top German diplomat made a two-day trip to Tehran in October 2015, a first such visit by a German foreign minister in 12 years, to attend a core group meeting of the Munich Security Conference (MSC) in the Iranian capital.
Iran and the five permanent members of the UN Security Council – the United States, France, Britain, China and Russia – plus Germany started to implement JCPOA on January 16.
After JCPOA entered into effect, all nuclear-related sanctions imposed on Iran by the European Union, the UN Security Council and the US were lifted. Iran in return has put some limitations on its nuclear activities.
The nuclear agreement was signed on July 14, 2015, following two and a half years of intensive talks.