Iran
Palestine targeted as part of West's bid to erase Islam: Iran's Larijani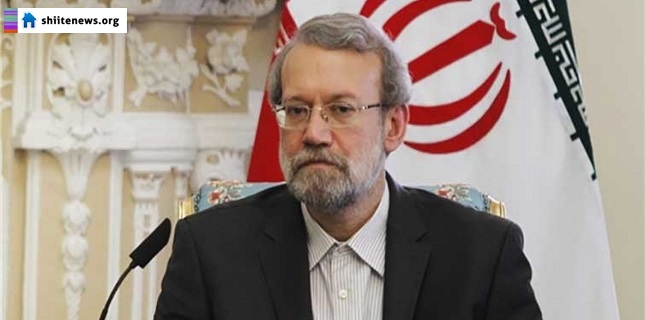 Iranian Parliament (Majlis) Speaker Ali Larijani says the West's ultimate objective is to obliterate Islam, adding it has started its plan with Palestine.
"Their major plan is to totally destroy Islam and they have started it with Palestine," Larijani said in an address to worshipers at Tehran Friday Prayers who had attended International Quds Day rallies earlier in the day.
The senior Iranian official added that that the Western countries created Israel in Palestinian lands with the aim of breaking up and sharing Islamic countries among themselves.
Larijani added that differences among certain Arab countries has helped Israel survive.
The Iranian Majlis speaker said the 1979 Islamic Revolution in Iran changed the strategy of Muslims in standing up to Israel.
He said Iran's eight-year sacred defense against Iraq and the Islamic Republic's resistance against West was a source of inspiration for other Muslim nations.
The top parliamentarian underlined that the development of nuclear technology is a major achievement that Iran has made without the West's help.
He further said the failure of talks on Tehran's nuclear issue will be a strategic mistake and not in the West's interests.
Millions of Iranians took to the streets across the country on Friday on International Quds Day in solidarity with the oppressed Palestinian nation.
Iranians from all walks of life turned out en mass in the capital, Tehran, and in over 770 towns and cities across the country.
Meanwhile, Iranian officials, including Hassan Rouhani, also joined the rallies to show support for Palestinians in the face of Israel's crimes and atrocities.
Rouhani told reporters that International Quds Day is the day of renewing allegiance to the Palestinian cause and the holy city of al-Quds.
"Today, there are divisions and rifts in many countries, and terrorists are making it hard for people to live, which is undoubtedly supported by the Zionist regime and hegemonic powers," Rouhani said.
He added, however, that with unity, solidarity and resistance, all of the Muslims, including the Palestinian nation, can achieve their objectives.